Total:

1 hr 20 min

Active:

30 min
Ingredients
1 1/4 cups heavy cream, at room temperature
7 ounces basil pesto 
2 teaspoons all-purpose flour 
1/2 teaspoon red chile flakes 
Kosher salt and freshly ground black pepper 
All-purpose flour, for dusting 
One 16-ounce ball frozen pizza dough, thawed
Butter-flavored nonstick cooking spray, for baking dish 
Two 13-ounce bags frozen cheese, pesto or mushroom filled ravioli (about 20 ravioli), no thawing necessary
1/2 teaspoon garlic salt 
2 ounces Parmesan cheese flakes 
Torn fresh basil, optional 
Directions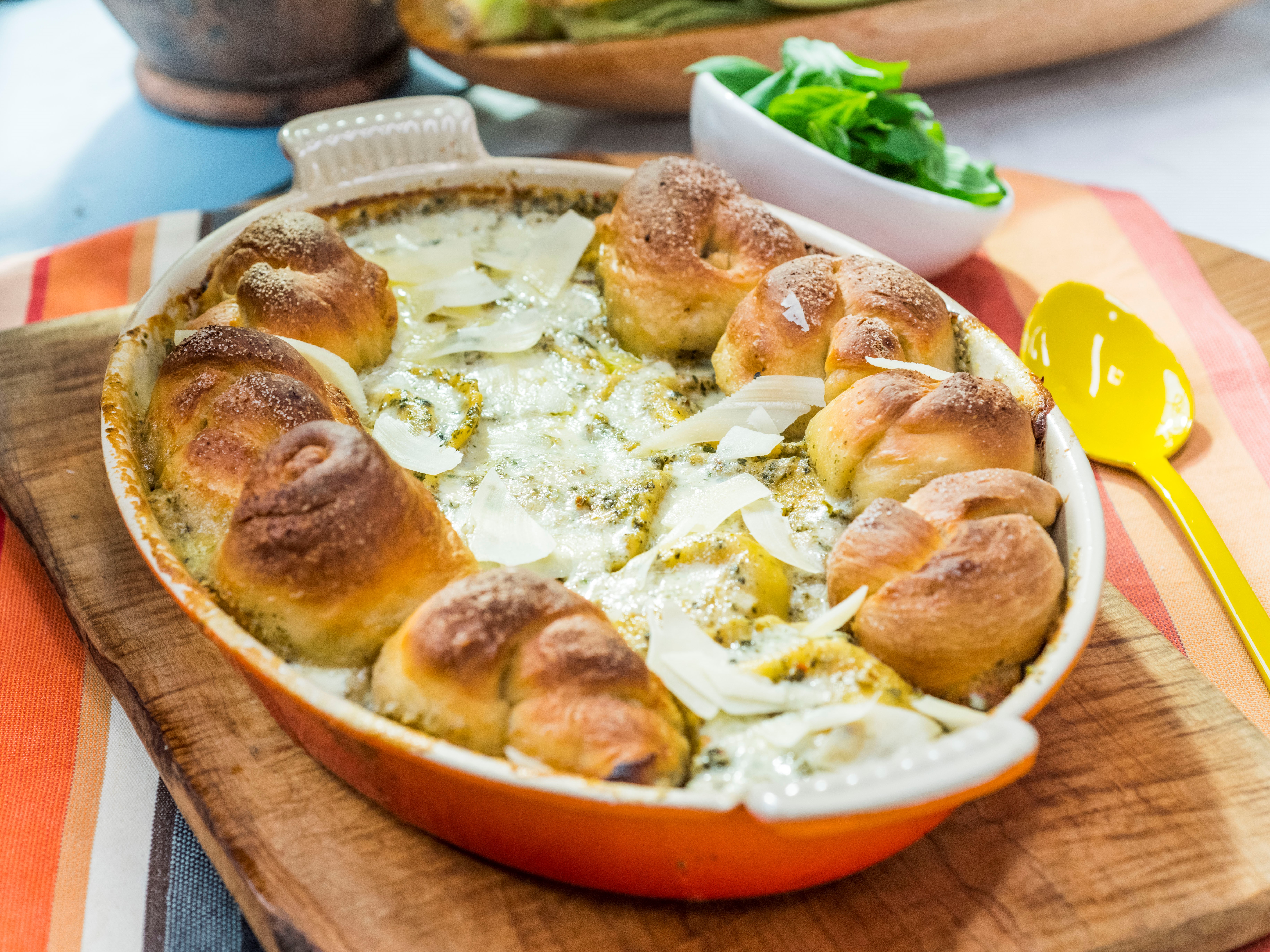 Preheat the oven to 400 degrees F.
Whisk together the heavy cream, pesto, flour, red chile flakes, 1/2 cup warm water and a pinch of salt and pepper in a medium bowl. Set aside.
Working on a lightly floured surface, divide the dough in half and roll each half to make a rope about 3/4-inch-thick. Cut each rope in to 4 equal parts. Twist each piece into a knot, making 8 knots.
Spray a large oval baking dish or large deep-dish pie pan with nonstick cooking spray. Pour a third of the sauce into the bottom of the dish. Layer with half of the ravioli in a single layer. Top with another third of the sauce, then layer with the remaining ravioli and top with the remaining sauce.
Place the knots along the inside edge of the pan, on top of the ravioli. Spray the knots with the cooking spray and sprinkle with garlic salt.
Bake until the garlic knots are a rich golden brown and the pasta sauce is bubbly, 40 to 50 minutes. Top with Parmesan and torn basil if using.
Source: Read Full Article