Total:

13 hr 15 min

Active:

45 min
Yield:

One 9 by 5-inch loaf
Ingredients
2 3/4 cups all-purpose flour (see Cook's Note)
1 1/4 teaspoons active dry yeast (about half of one 1/4-ounce packet)
2 tablespoons sugar
2 1/2 teaspoons kosher salt
1/2 cup whole milk
4 large eggs
1 1/4 sticks (10 tablespoons) unsalted butter, cubed and at room temperature, plus more for the plastic wrap and brushing the bread
Red, orange, yellow, green, blue and purple gel food coloring
Directions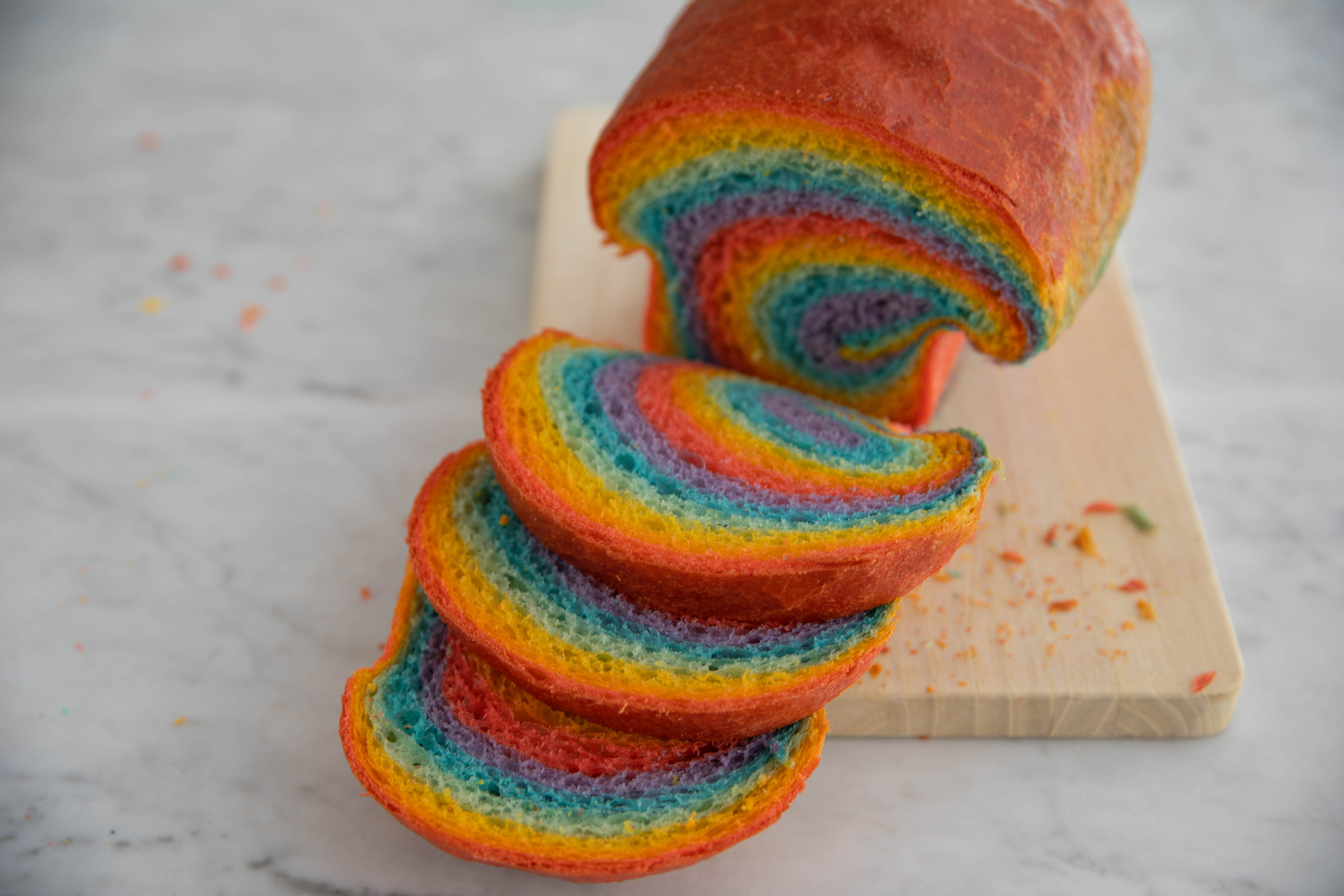 Special equipment:
Place the flour, yeast, sugar and salt in the bowl of a stand mixer fitted with the dough hook and mix on low speed to combine. Add the milk and 3 of the eggs and mix on low speed until well combined. Increase the speed to medium-high and mix until the dough starts to pull away from the side of the bowl, about 5 minutes.
Reduce the speed to medium and start adding the butter, a little at a time and waiting until it is completely incorporated to add more, about 5 minutes. Increase the mixer to medium-high and continue to mix until the dough is glossy and slightly tacky but not sticky, about 7 minutes.
Divide the dough into 6 equal-size pieces. Add a few drops of red food coloring to one piece of dough and knead until vibrant and no streaks remain; set aside. Repeat with the remaining 5 pieces of dough, tinting each with one of the remaining colors (orange , yellow, green, blue or purple). Place each tinted piece of dough in a separate small bowl and cover with plastic wrap. Refrigerate at least 8 hours and up to 12 hours.
To assemble, individually roll out the 6 pieces of chilled dough on a sheet of parchment paper into six 9-by-5-inch rectangles. Stack the pieces on top of each other in the color of the rainbow, so red on the bottom, then orange, yellow, green, blue, and purple. Roll out the stack of dough again to a 12-by-8-inch rectangle; this will ensure that all the layers stick and bake together. With the red layer on the bottom, and starting from a shorter end, start rolling the dough into a tight spiral, like a jelly roll cake.
Generously butter one 9-by-5-inch nonstick loaf pan and place the rolled dough inside, seam-side down. Generously butter a piece of plastic wrap large enough to cover the pan and place it butter-side down loosely over the pan. Let the dough rise until it comes to 1/2 inch above the rim of the pans, 2 to 3 hours.
Position an oven rack in the middle of the oven and preheat to 350 degrees F.
Beat the remaining 1 egg with 1 tablespoon water. Remove the plastic wrap and brush the top of the loaf with the egg wash. Bake until golden brown and an instant-read thermometer inserted in the middle reaches 190 degrees F, about 30 minutes, rotating the pan halfway through. Transfer to a wire rack and let cool 5 minutes, then run a knife around the sides of the loaf to loosen and turn the loaf out of the pan. Let cool completely top-side up on the rack.
Cook's Note
When measuring flour, we spoon it into a dry measuring cup and level off excess. (Scooping directly from the bag compacts the flour, resulting in dry baked goods.)
Source: Read Full Article