Photo By: Renee Comet
Photo By: Armando Rafael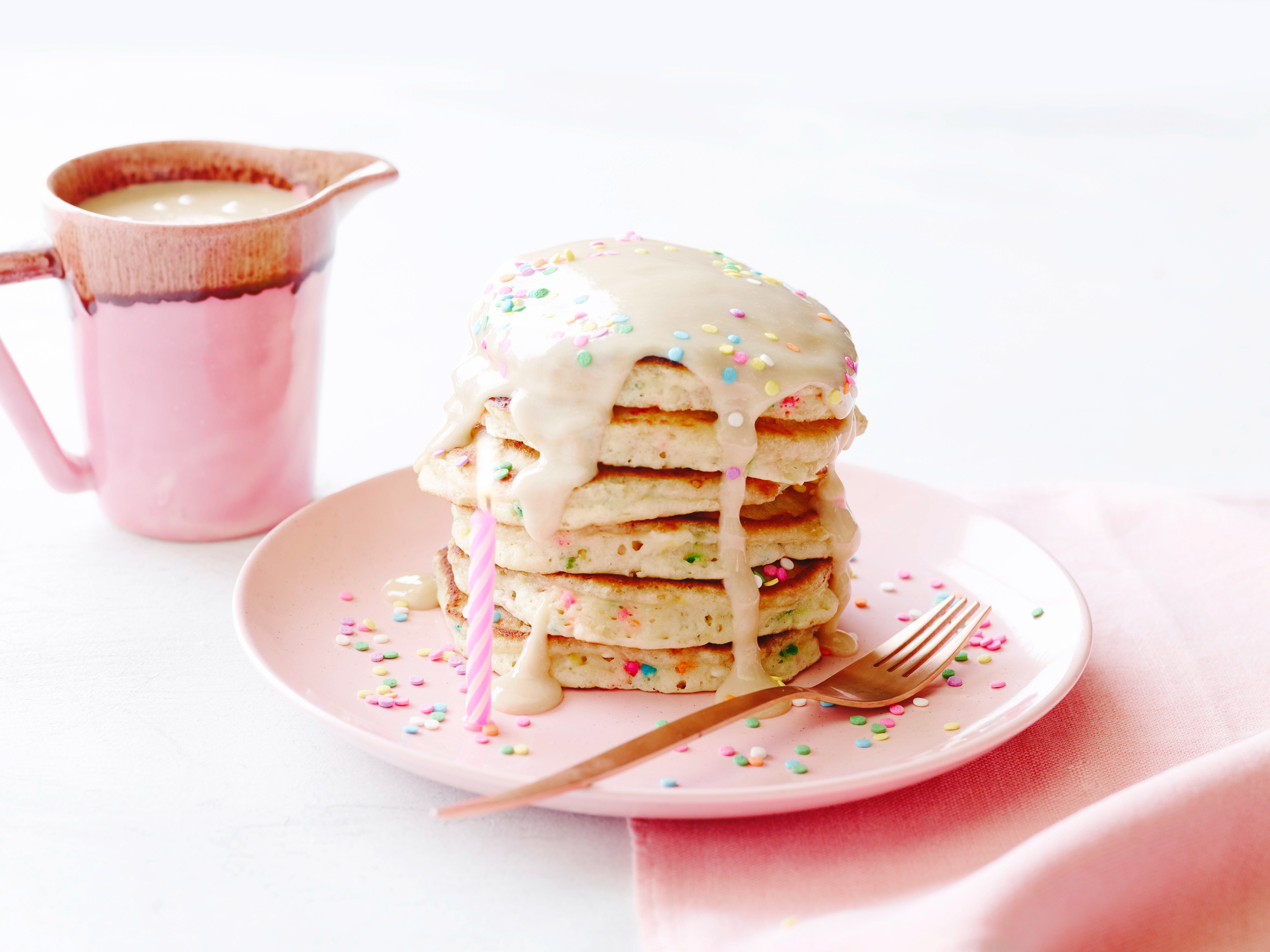 Photo By: Matt Armendariz©2014, Television Food Network, G.P. All Rights Reserved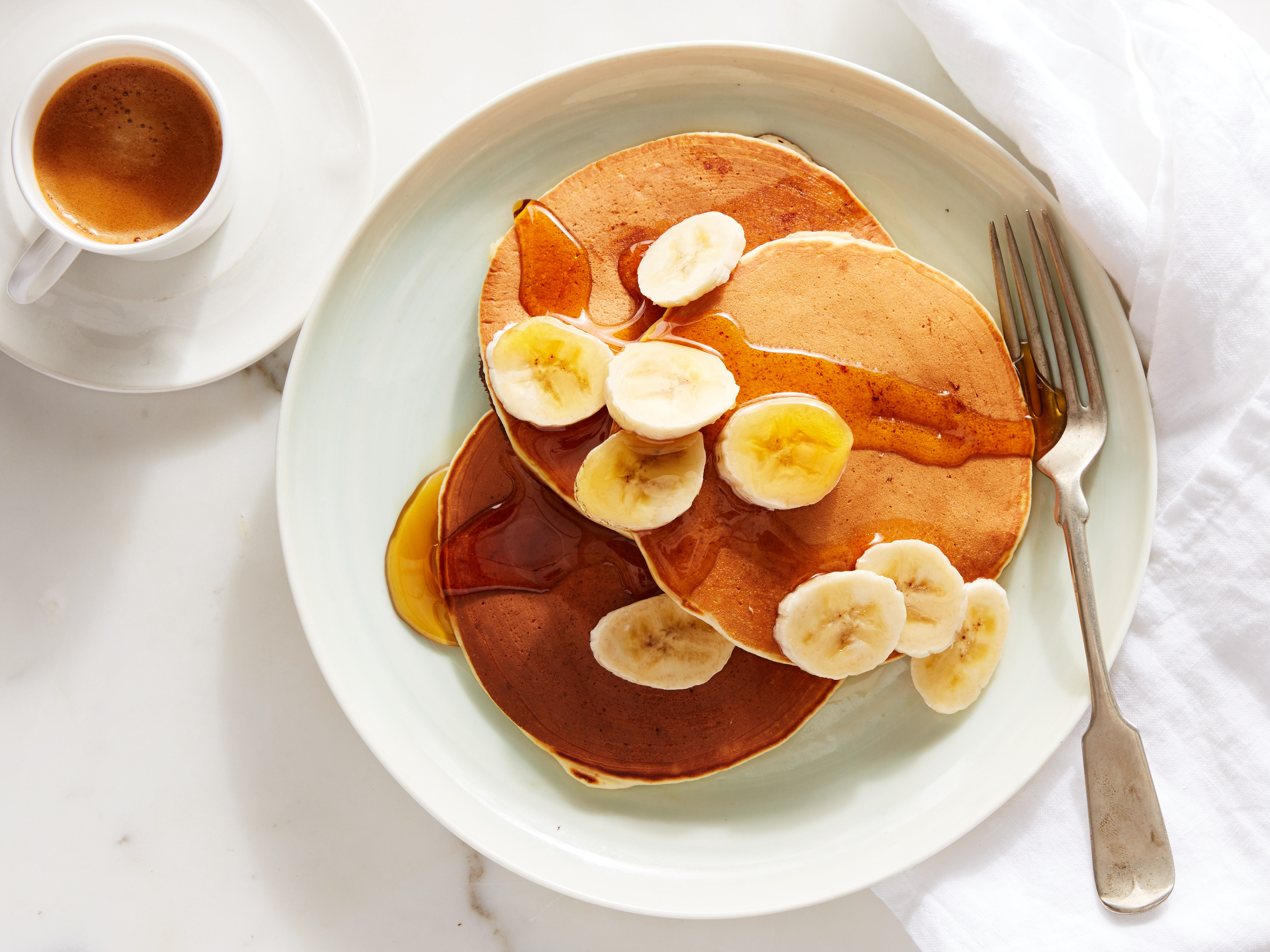 Photo By: Kate Mathis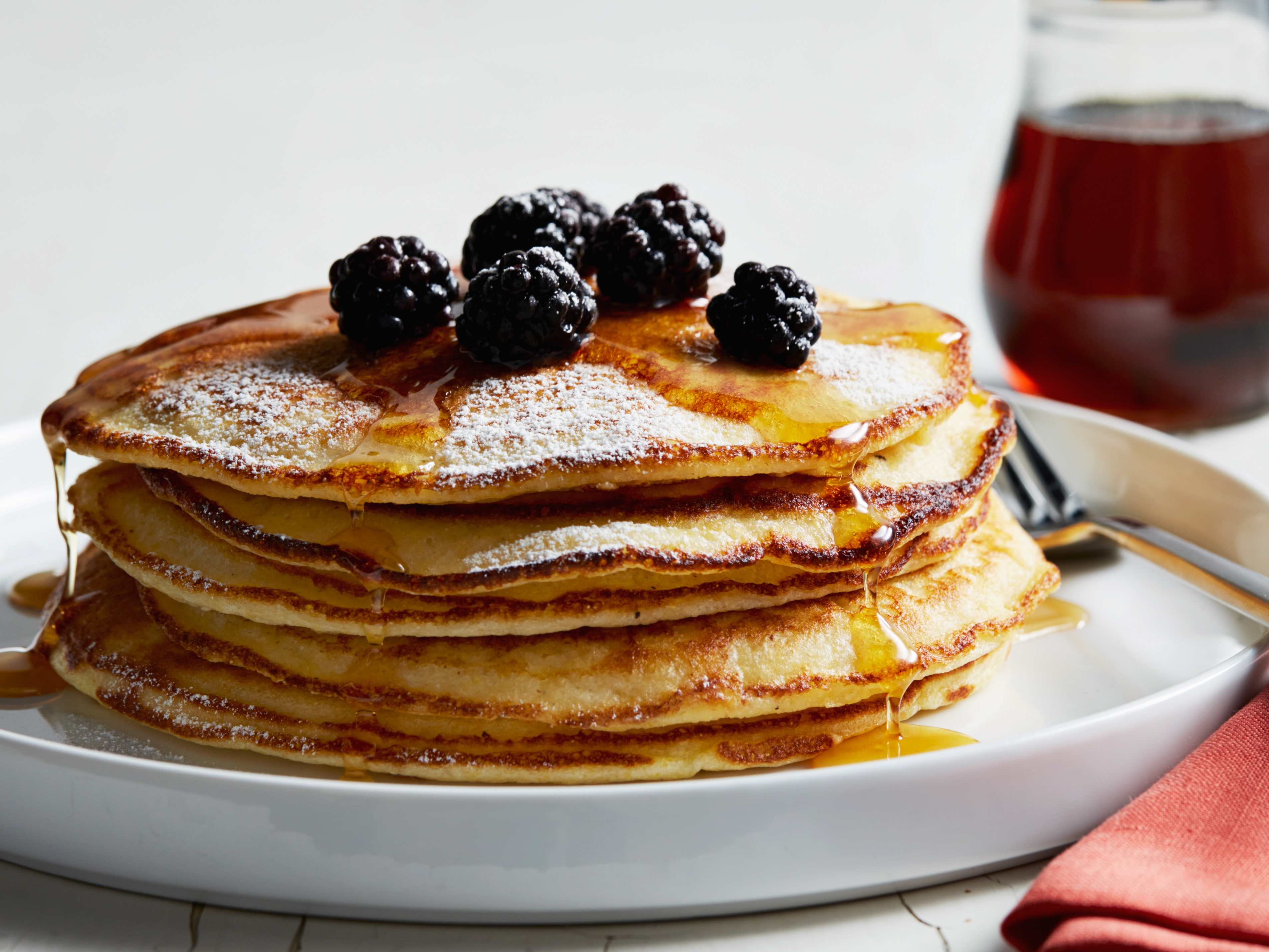 Photo By: Armando Rafael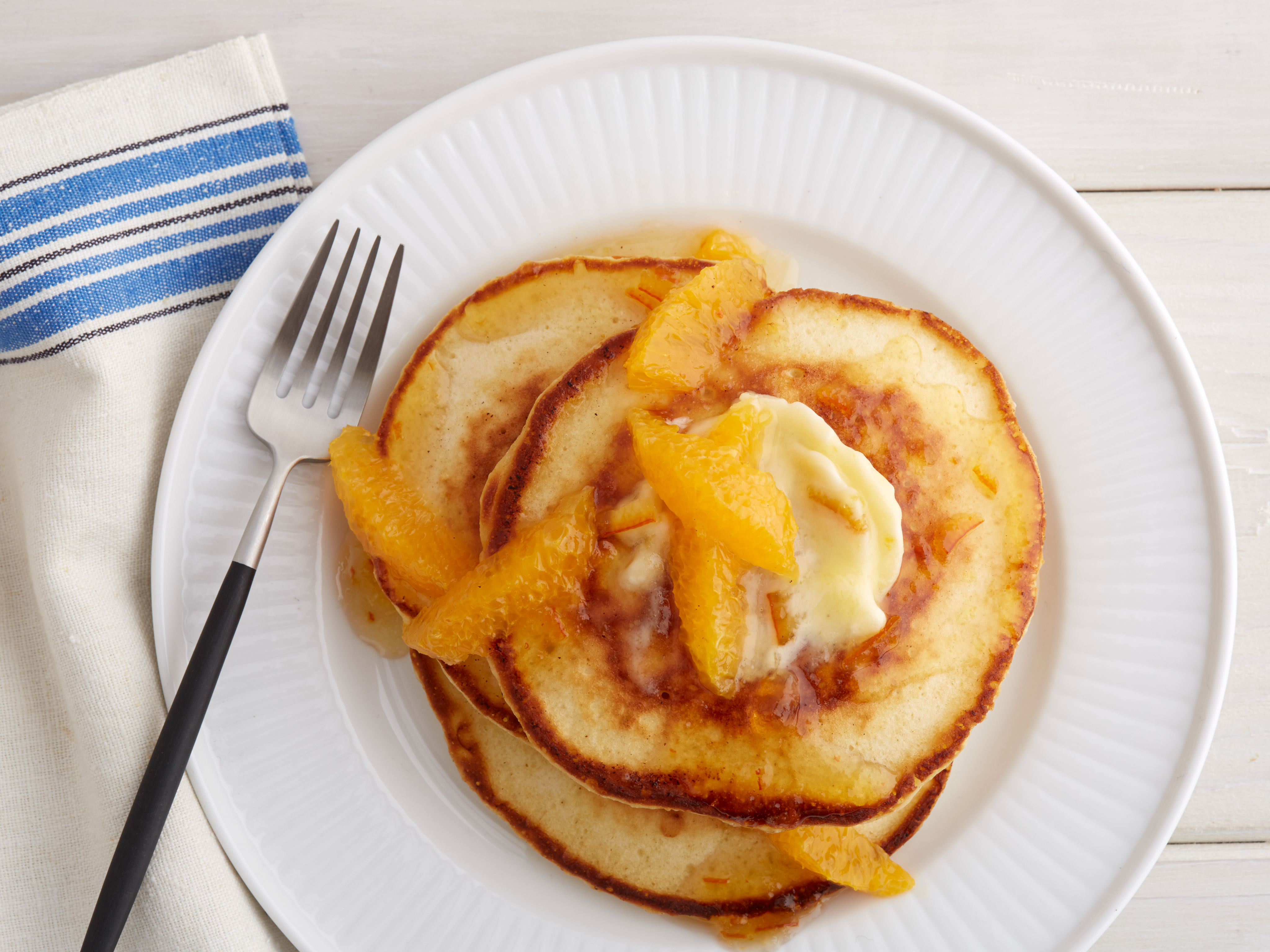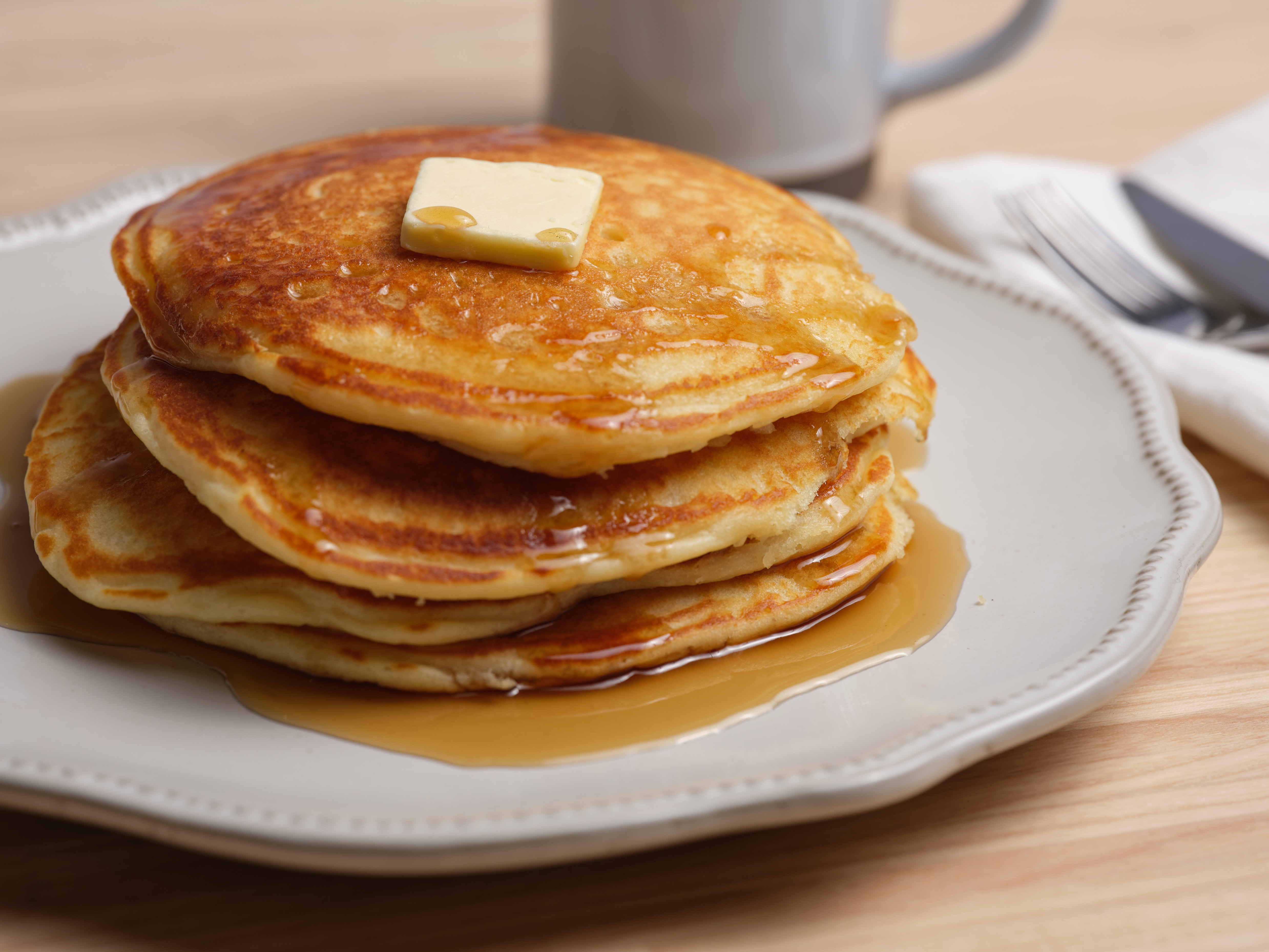 Photo By: Caitlin Ochs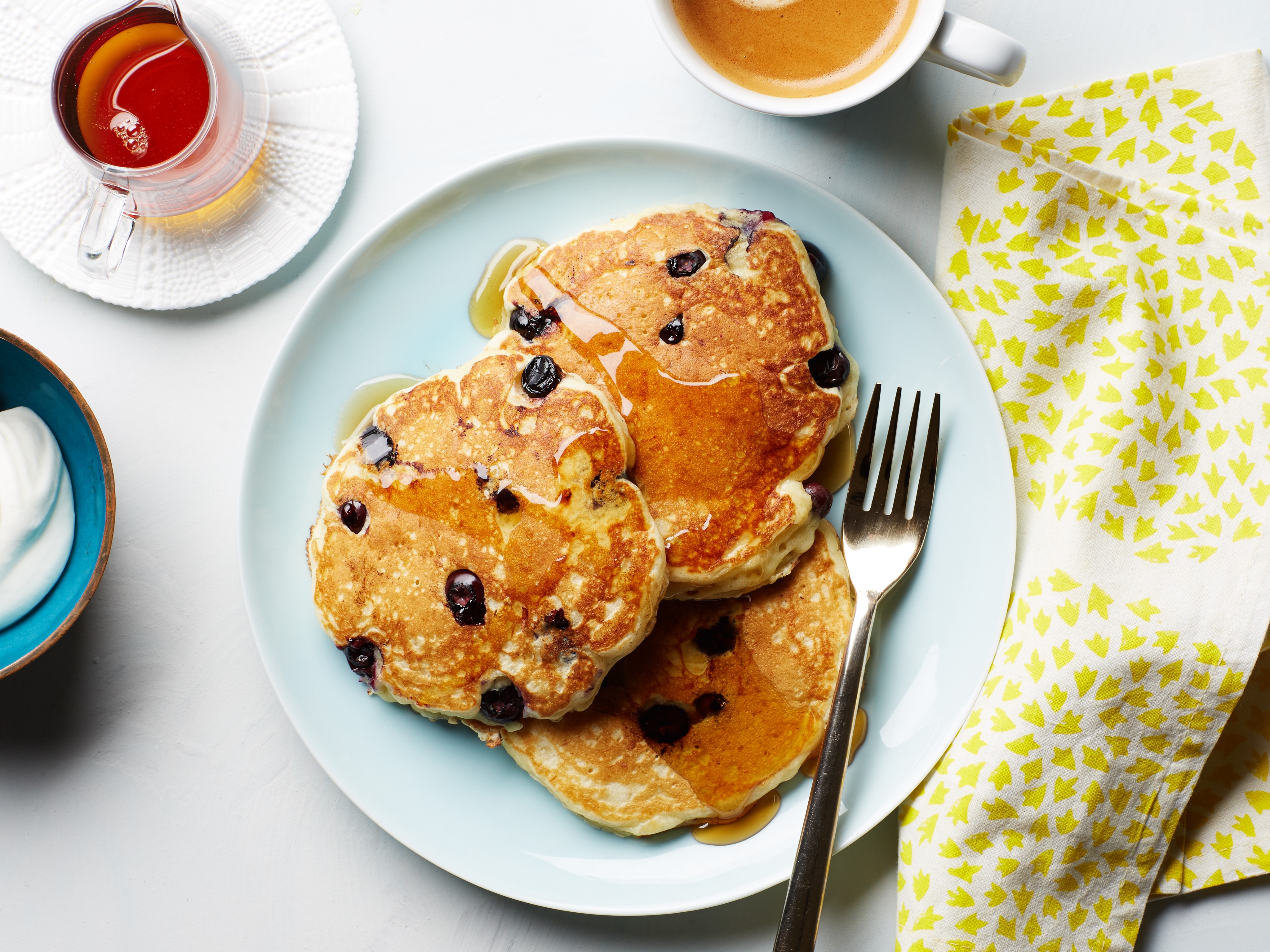 Photo By: Tara Donne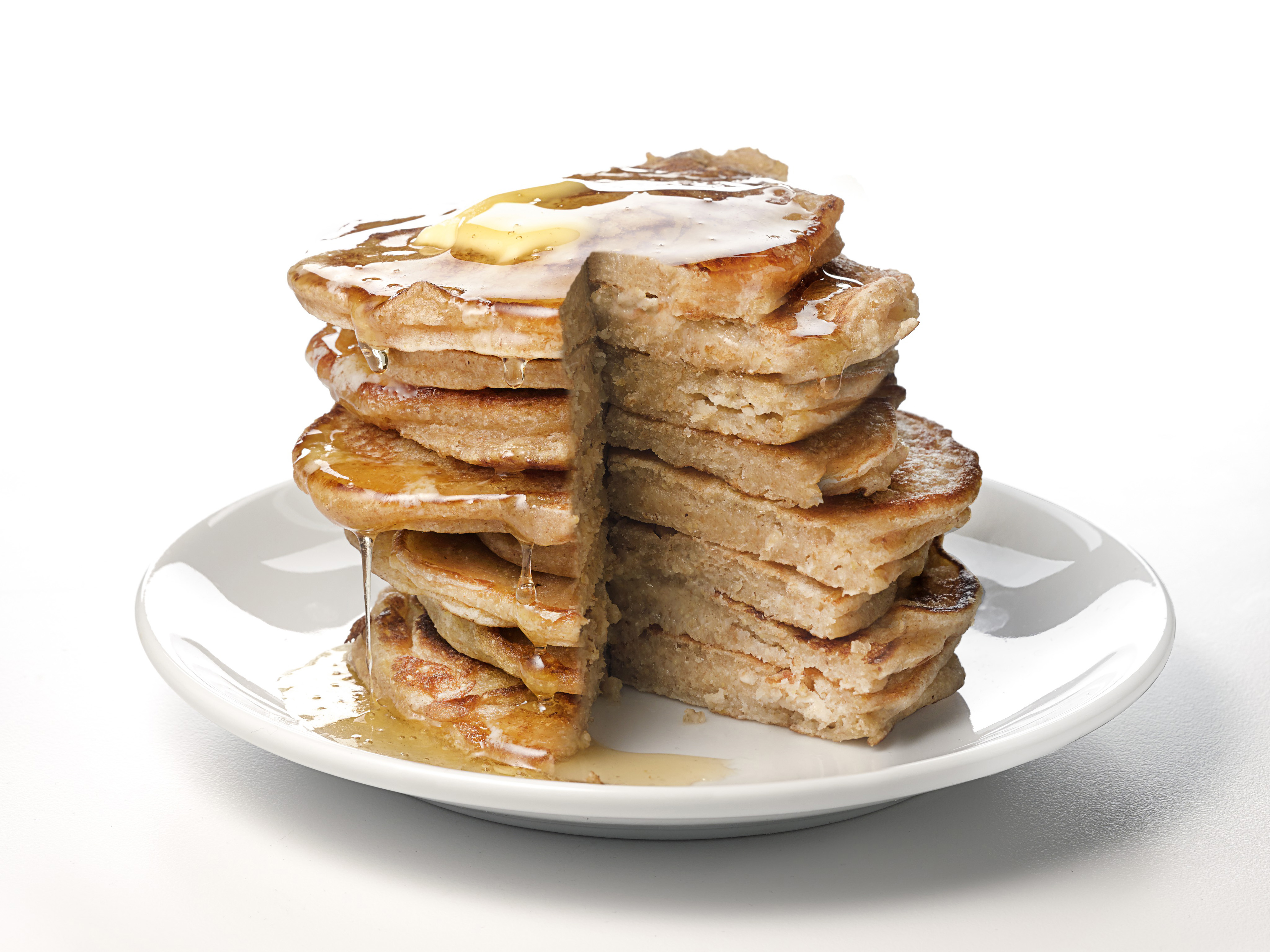 Photo By: Charles Masters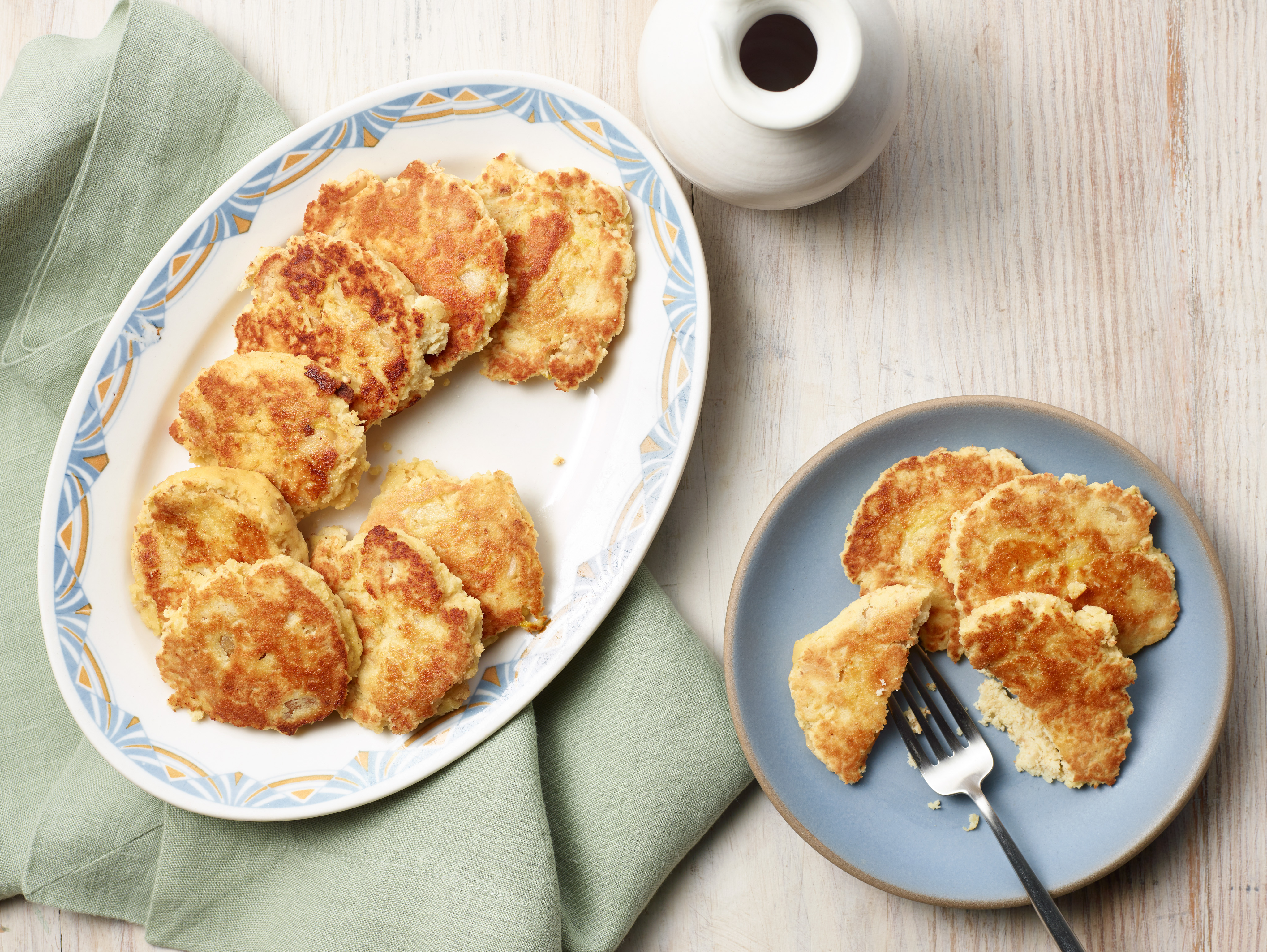 Photo By: Renee Comet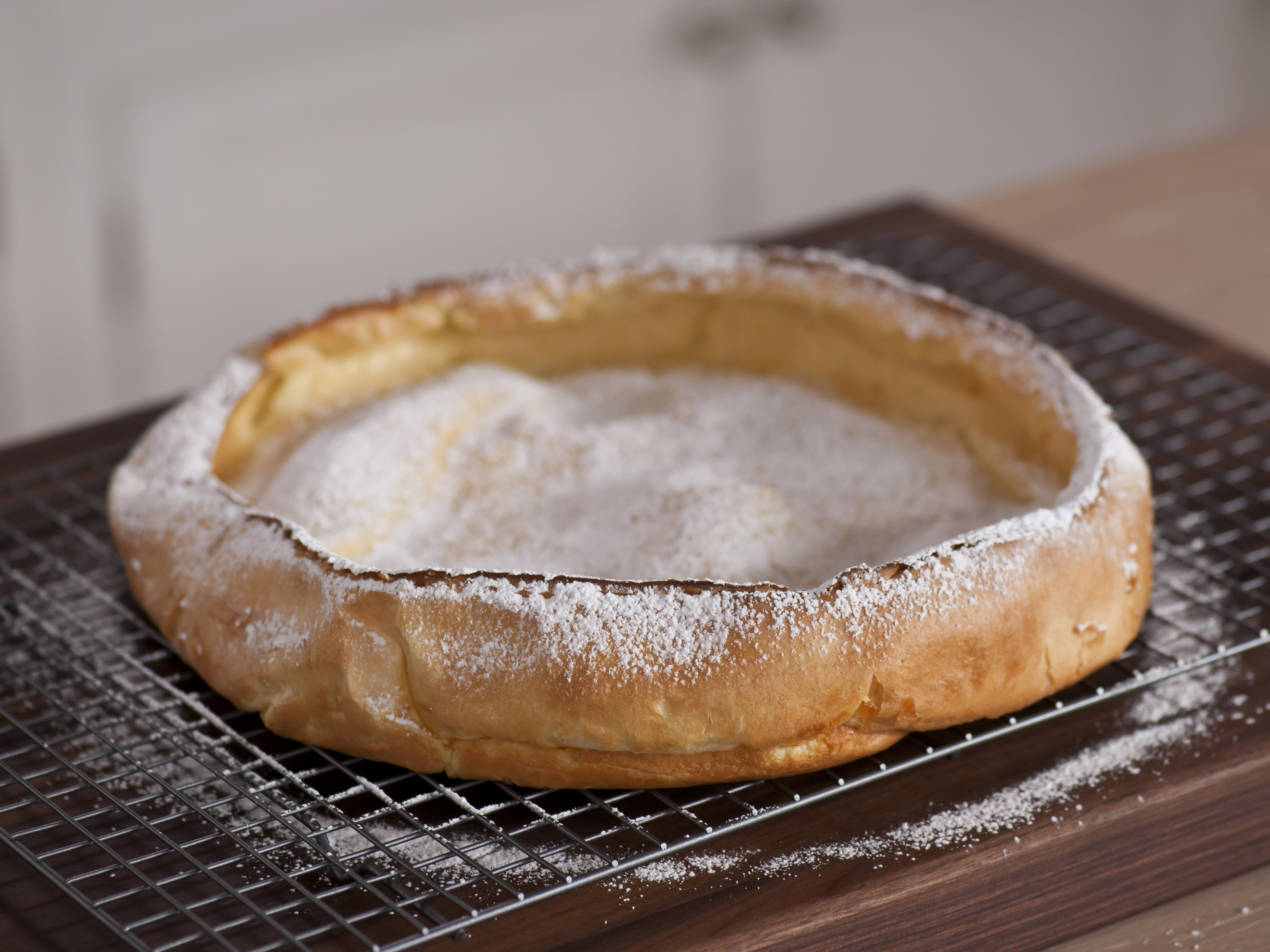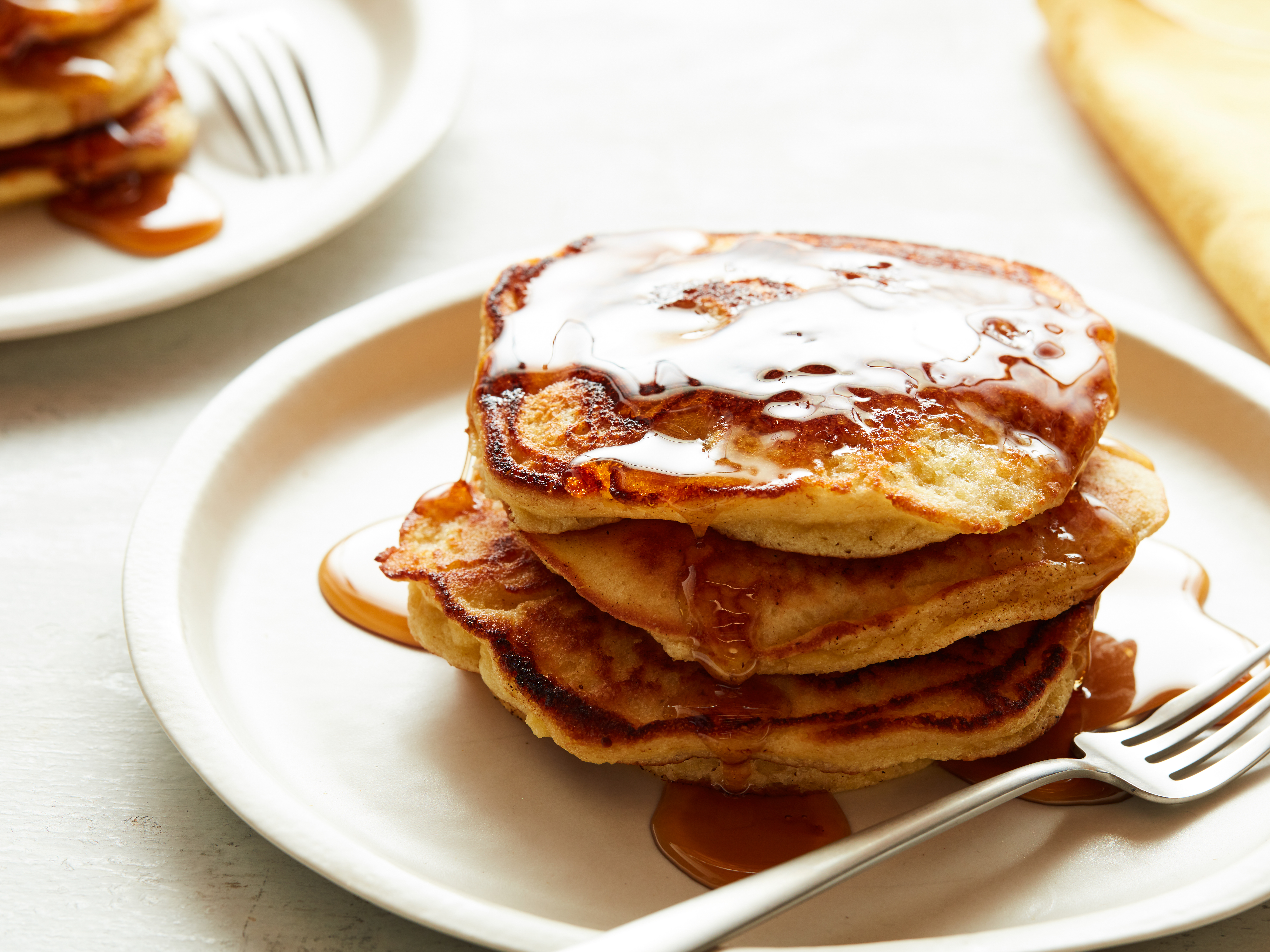 Photo By: Matt Armendariz
Photo By: Kate Mathis©2016, Television Food Network, G.P. All Rights Reserved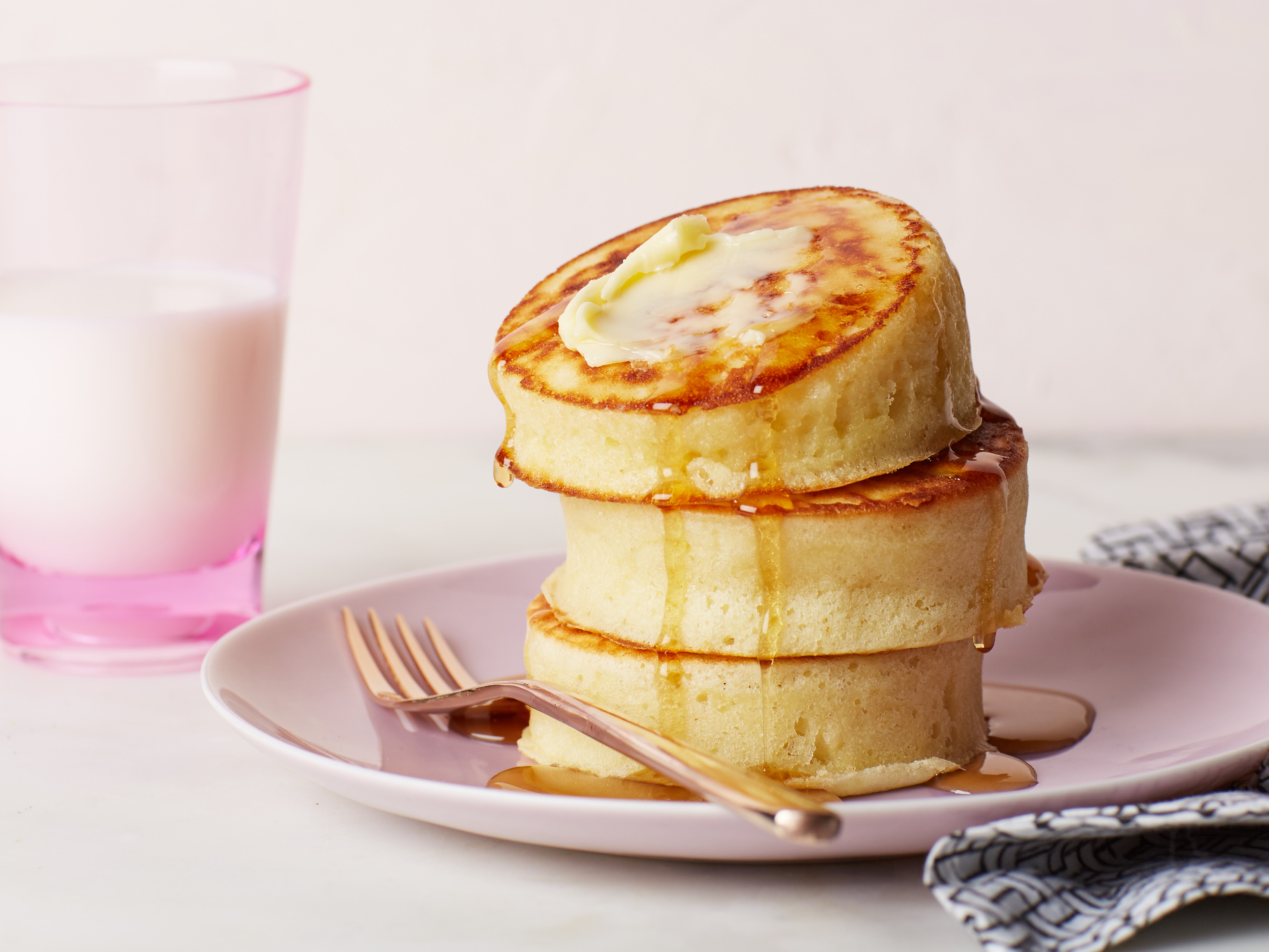 Photo By: Tara Donne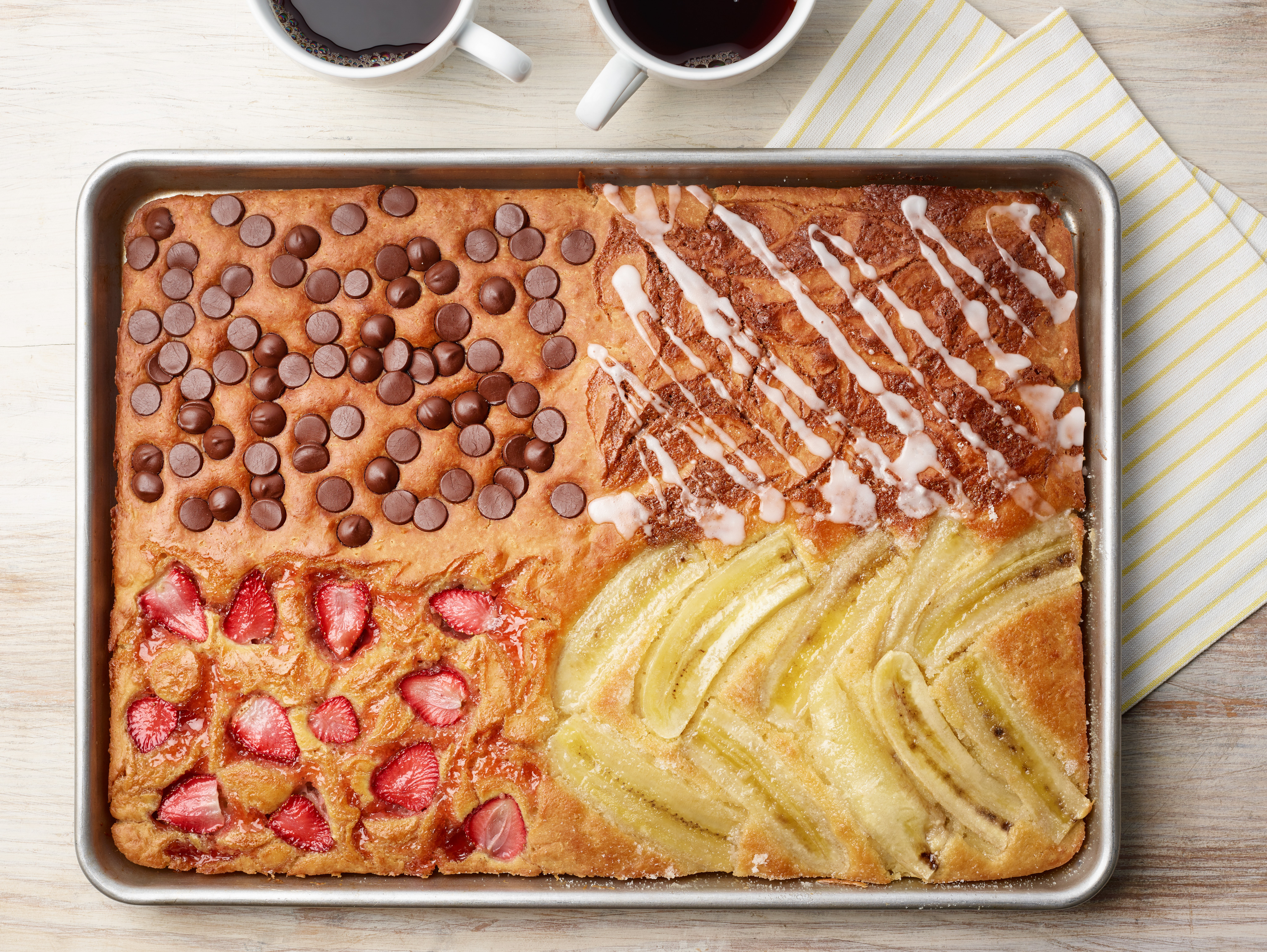 Photo By: Renee Comet
Photo By: Matt Armendariz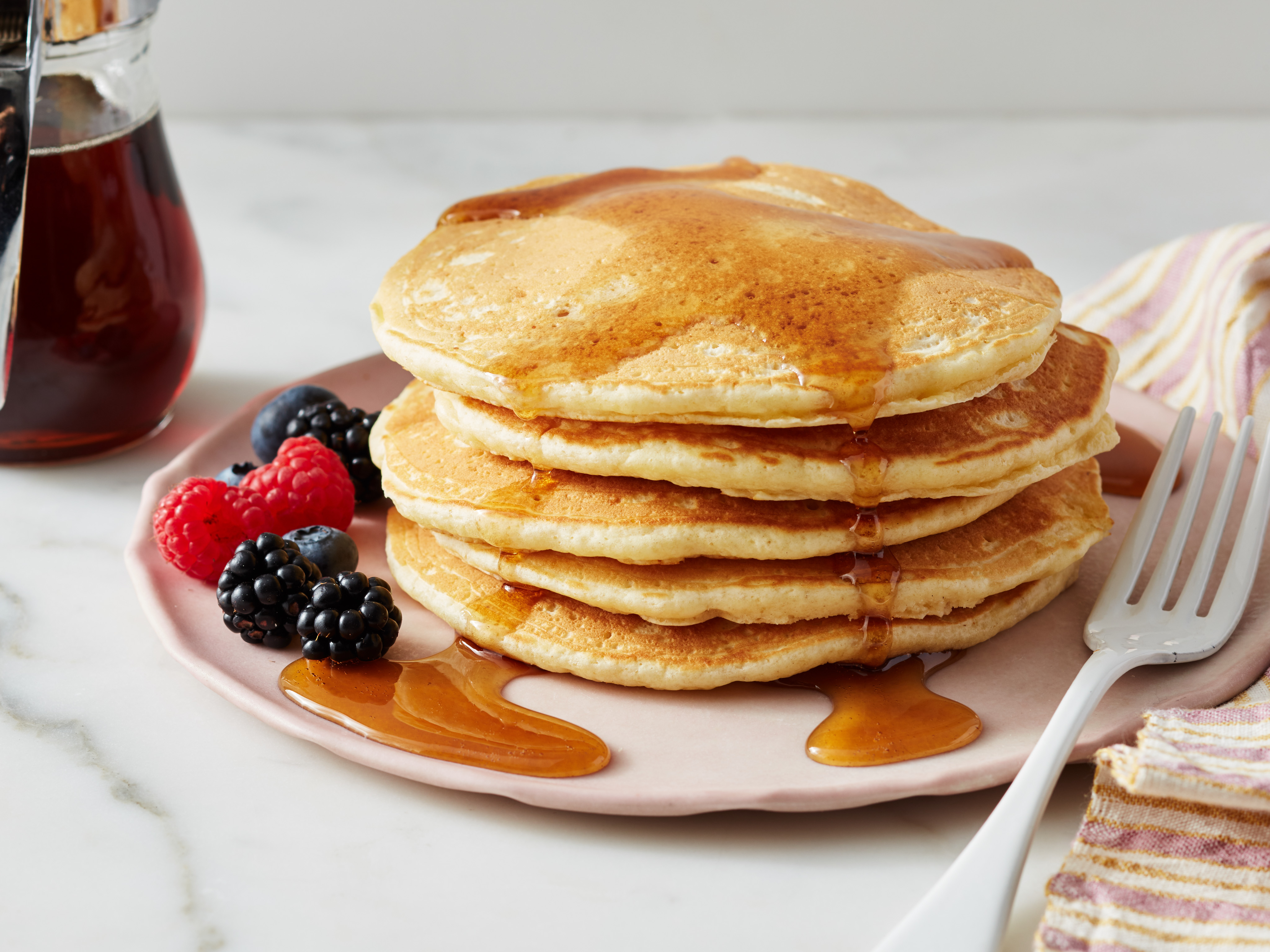 Photo By: Kate Mathis©2016, Television Food Network, G.P. All Rights Reserved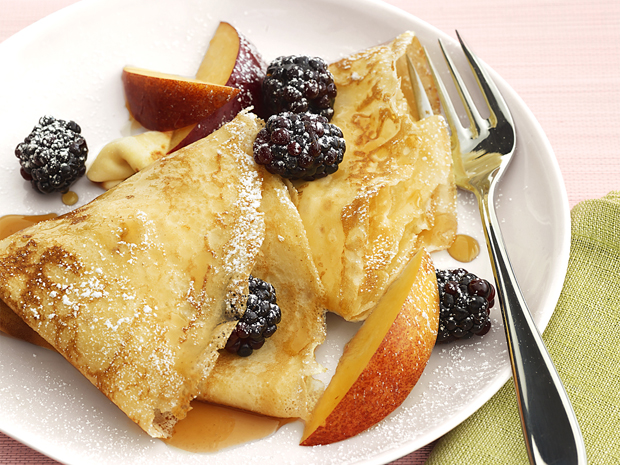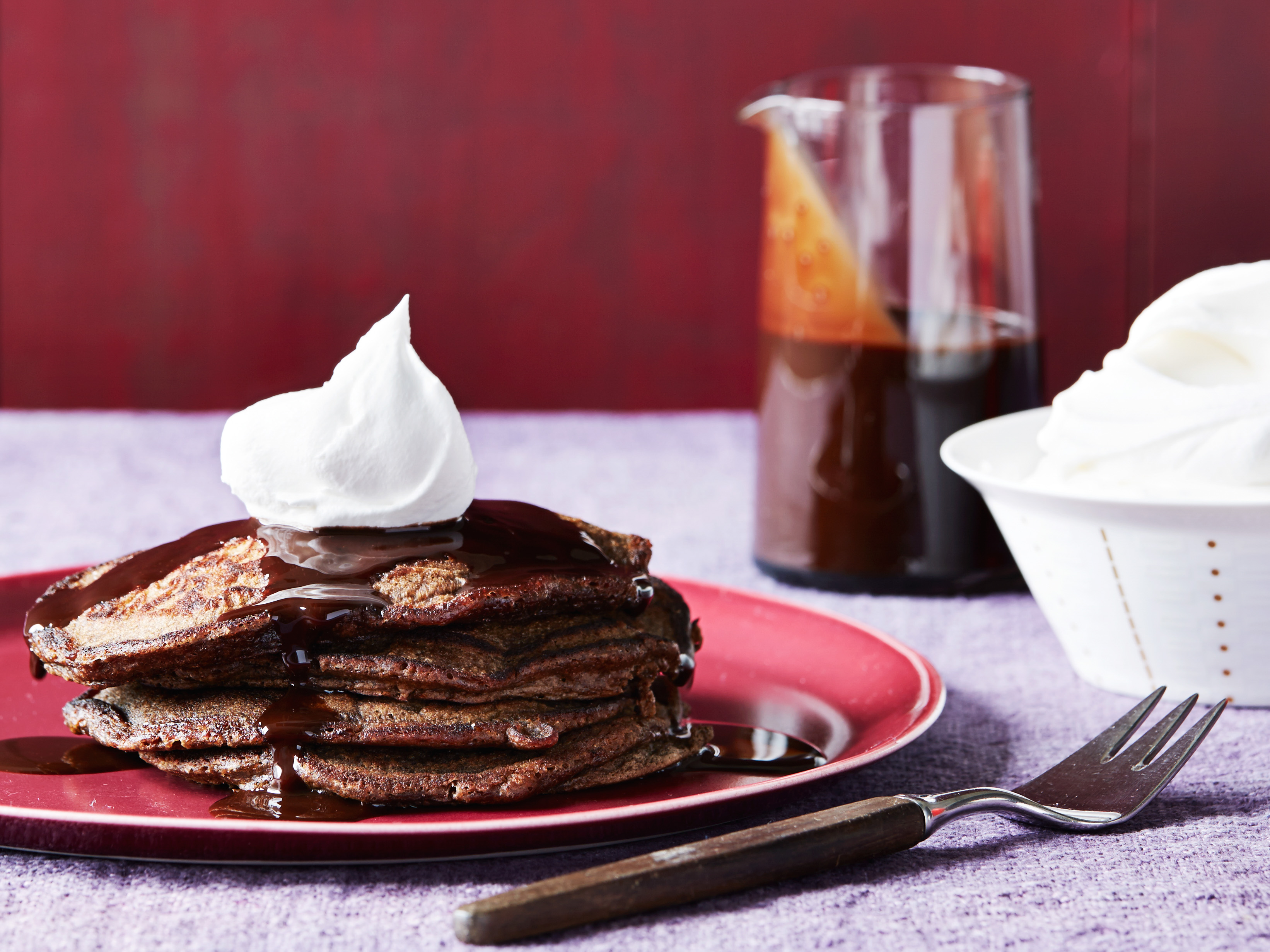 Photo By: Armando Rafael©2015, Television Food Network, G.P. All Rights Reserved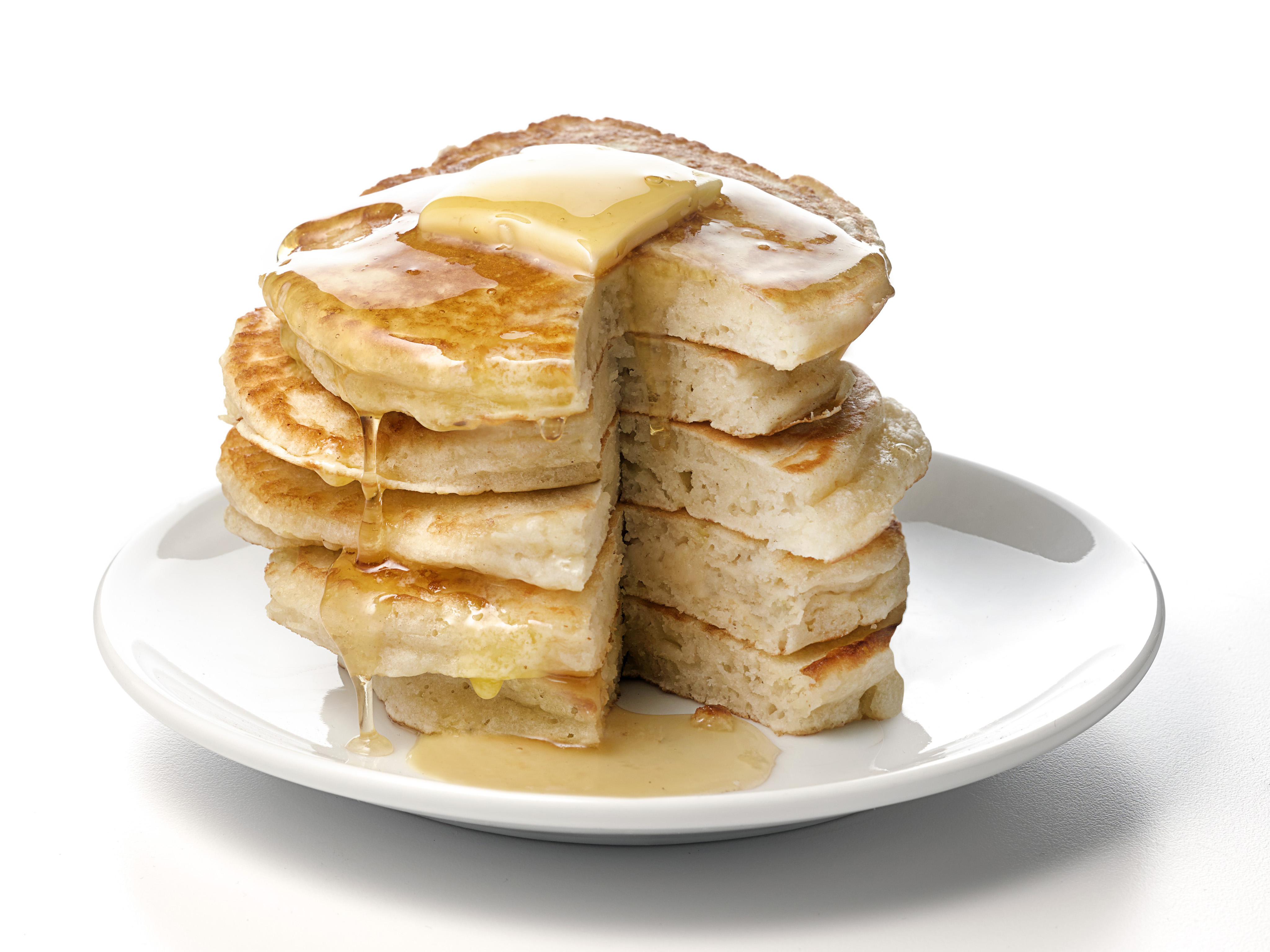 Photo By: Charles Masters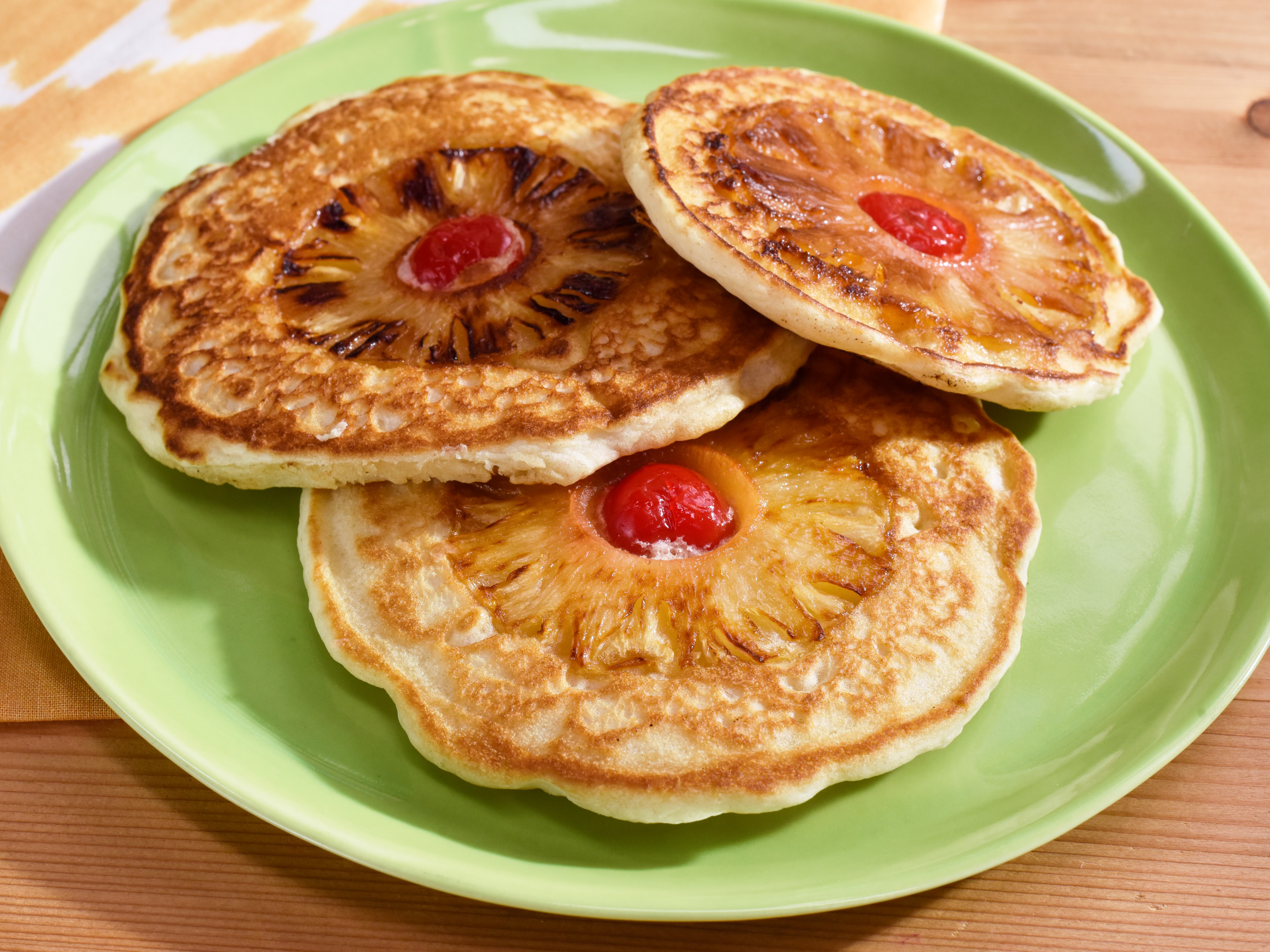 Photo By: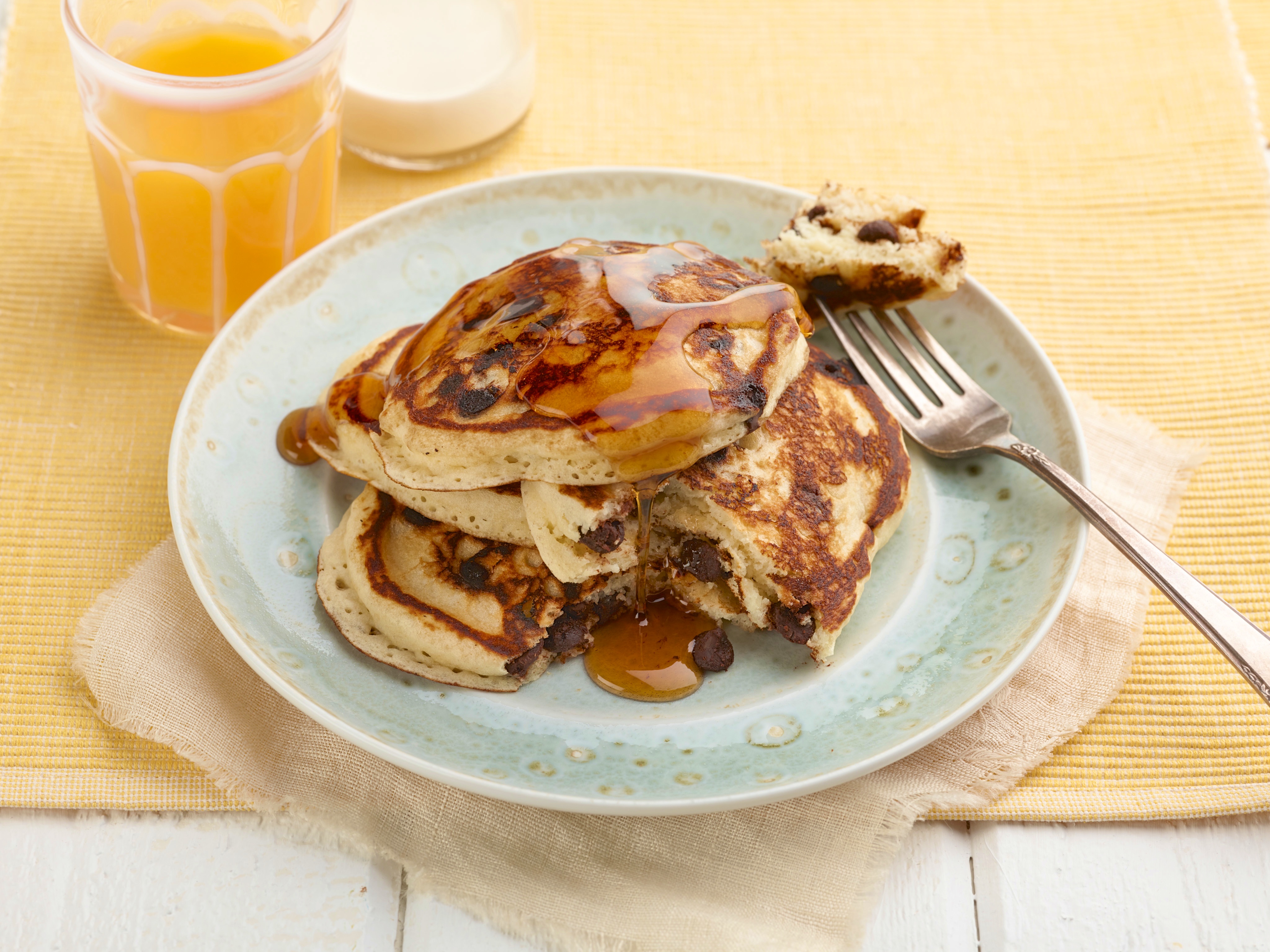 Photo By: Renee Comet©2013, Television Food Network, G.P. All Rights Reserved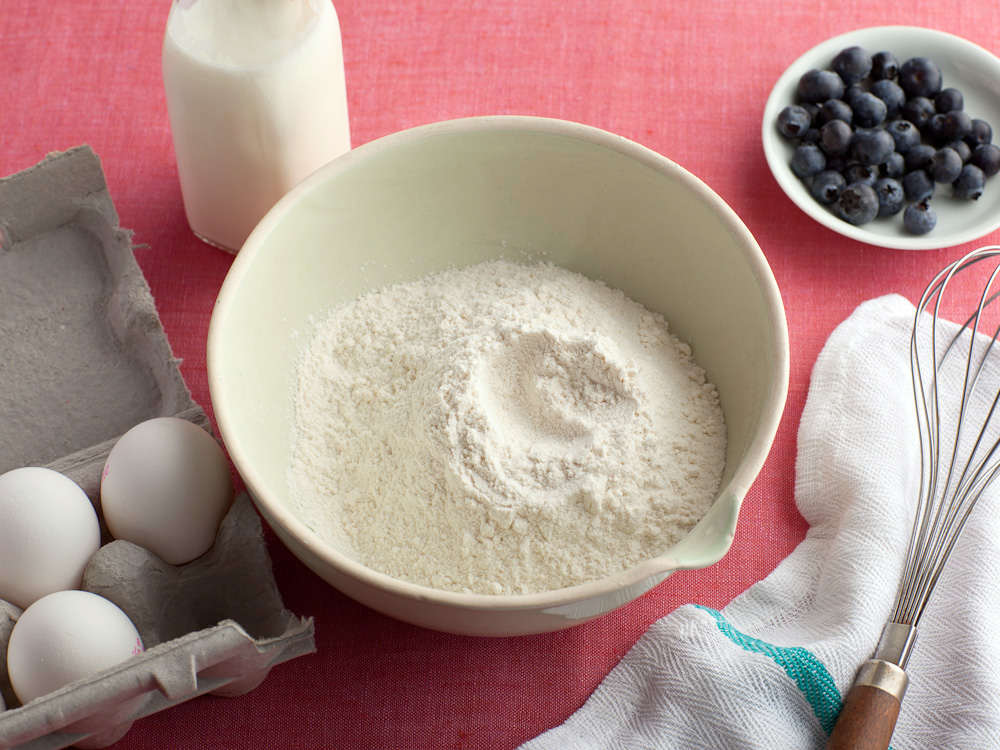 Photo By: Tara Donne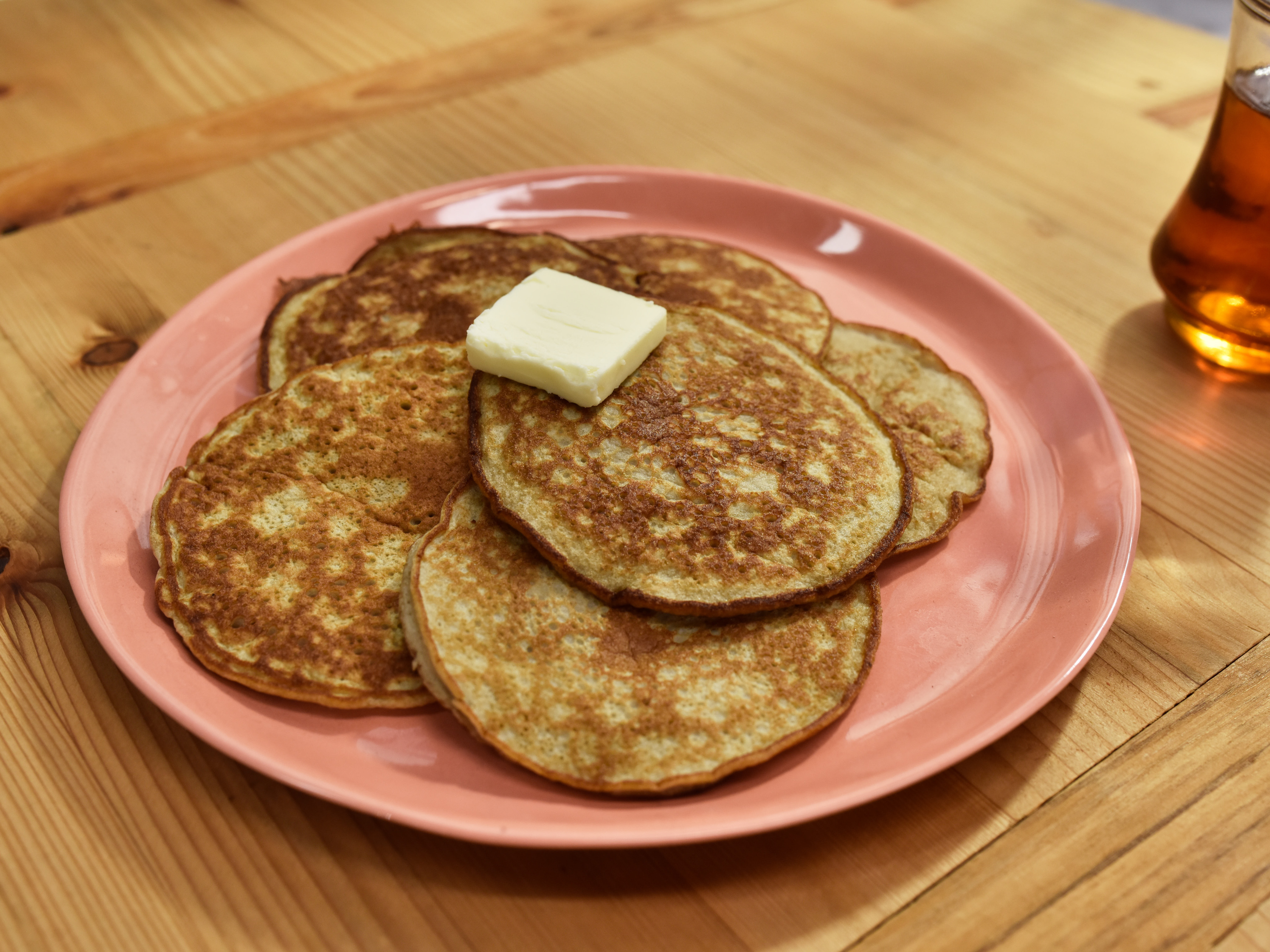 Photo By: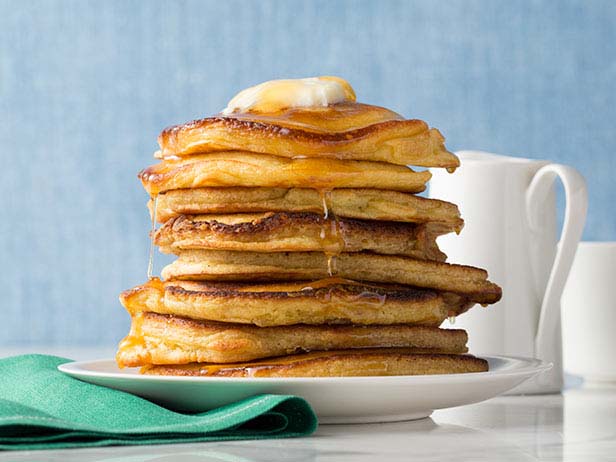 Photo By: Tara Donne©Food Network: 2012, Television Food Network, G.P.
No Milk Pancakes
These stacks are so fluffy and flavorful, you'll never make pancakes the traditional way again. The acidity in the orange juice helps boost the baking soda's power for an airy texture, and its flavor complements the vanilla.
Get the Recipe:No Milk Pancakes
Apple-Cinnamon Pancakes
Grated apple is the secret ingredient in these lightly spiced and fluffy pancakes.
Get the Recipe:Apple-Cinnamon Pancakes
Birthday Pancakes
Make an impressive tower of pancakes for a morning birthday celebration — or serve them as short stacks. Cooking the pancakes over medium-low heat keeps them lightly golden so the confetti sprinkles really pop!
Get the Recipe:Birthday Pancakes
Banana Sour Cream Pancakes
For many doughs and batters, sour cream plays a significant role, adding moisture and deepening the flavor of your final baked good. Sour cream can also be used to replace different ingredients, like buttermilk, for example, in baked goods like these Banana Sour Cream Pancakes. The sour cream acts like buttermilk in pancakes, activating the baking powder and softening up the cakes, while also adding a bit of tang to the flavor.
Get the Recipe:Banana Sour Cream Pancakes
Cornmeal Pancakes
These buttermilk pancakes owe their incredible texture to cornmeal and whipped egg whites.
Get the Recipe:Cornmeal Pancakes with Glazed Oranges and Cranberries
Orange Marmalade Pancakes
Top fluffy pancakes with an orange marmalade butter and fresh orange segments.
Get the Recipe:Orange Marmalade Pancakes
The Best Buttermilk Pancakes
We're transporting you to the old-fashioned diner for a plate of fluffy buttermilk pancakes. Our recipe has both baking powder for an airy and light interior and baking soda for that even golden-brown exterior. We love the tang of buttermilk and the richness of butter for an even cakier stack. This recipe is easy enough for a fast breakfast with the kids or doubled for a weekend brunch with friends.
Get the Recipe:The Best Buttermilk Pancakes
Blueberry Buttermilk Pancakes
Getting your kids to eat can sometimes be a struggle, so the best way to accomplish this seemingly impossible task is through pancakes. That's right, the only easy way to get your kids to eat is to serve them breakfast cake. It's sad, but we've all been there! These Blueberry Buttermilk Pancakes are the best place to start. Mix them up by adding strawberries, peaches, or mangoes (the list goes on!) and pretty soon, they'll be noshing like there's no tomorrow.
Get the Recipe:Blueberry Buttermilk Pancakes
Multigrain Pancakes
Multigrain pancakes can be dense and heavy, but these aren't. The yogurt keeps them light and moist without adding a lot of fat.
Get the Recipe:Multigrain Pancakes
Keto Pancakes
Satisfy your breakfast cravings even when you're following the keto diet with these nutty flapjacks.
Get the Recipe:Keto Pancakes
Vanilla Dutch Baby (Puffed Pancake)
Unlike what most people typically think of as a pancake (fried stovetop and flipped to evenly cook both sides), this Vanilla Dutch Baby is baked in the oven for the ultimate pancake experience. In the family of a popover, the Dutch Baby is a large, puffed pancake that can be eaten at any time of day! We suggest giving it a light dusting of powdered sugar and fresh berries, then slicing it up and sharing with a crowd of very hungry pancake lovers.
Get the Recipe:Vanilla Dutch Baby (Puffed Pancake)
Almond Flour Pancakes
These super fluffy pancakes are a great gluten-free alternative to the usual pancakes made with wheat-based flours. Using almond flour also makes the pancakes super tender and a little harder to flip. Just be patient and wait until they are cooked as instructed on the first side before turning them over.
Get the Recipe:Almond Flour Pancakes
Peach Cobbler Pancakes
These pancakes package the classic summer fruit dessert as a luxurious breakfast treat, topped with whipped cream and crunchy toasted almonds. If you have apricots, plums or other ripe stone fruits, you can swap them in for the peaches.
Get the Recipe:Peach Cobbler Pancakes
Fluffy Japanese Pancakes
Airy pancakes are always the name of the game and this foolproof recipe ensures the perfect fluff every time. The secret? Baking powder, of course, and also a not-so-typical pancake ingredient: cream of tartar. Cream of tartar is found in baking powder, but the integration of additional cream of tartar helps the eggs to increase and keep their volume as you whisk them up, making it the best secret weapon for creating super fluffy pancakes.
Get the Recipe:Fluffy Japanese Pancakes
Four-Flavor Sheet Pan Pancakes
Streamline your pancake process with this Four-Flavor Sheet Pan Pancake recipe. Not only will you be able to make pancakes for a crowd in a matter of minutes, but you'll also be able to please everyone with lots of topping options. Choose from tasty favorites like bananas and chocolate chips or blueberries and strawberries for a variety of crowd-pleasing pancake possibilities.
Get the Recipe:Four-Flavor Sheet Pan Pancakes
Cinnamon Bun Pancakes
If you're sick and tired of the plain old cinnamon bun (which we find hard to believe, but will entertain the idea, if only for a minute), then try reinventing the wheel with these Cinnamon Bun Pancakes. Full of cinnamon and swirl, these pancakes encapsulate everything there is to love about cinnamon buns (cinnamon, sugar, that melty glaze) and pancakes (light, fluffy cake), making them the ultimate breakfast food. Serve them for special occasions, or just because; there's no wrong way to enjoy these breakfast cakes.
Get the Recipe:Cinnamon Bun Pancakes
Simple Homemade Pancakes
Another classic recipe, these Simple Homemade Pancakes tackle the power of buttermilk to create soft, fluffy cakes. The acid from the buttermilk works together with the baking powder to produce more air bubbles and establish a lighter overall pancake. These simple cakes are great on their own, with a variety of toppings or even as a pairing for a larger meal. They're also great any time of day, so if you're feeling breakfast for dinner, don't shy away from this recipe.
Get the Recipe:Simple Homemade Pancakes
Swedish Pancakes
Swedish pancakes sit between crepes and American pancakes. Not quite as thin as crepes, but certainly not as fluffy or thick as pancakes, They're a happy medium when you want something a bit lighter and more delicate than American pancakes. Top them with fresh fruit, a drizzle of maple syrup or a dusting of confectioners' sugar for a delicious breakfast any time of year.
Get the Recipe:Swedish Pancakes
Hot Chocolate Pancakes
Leftover hot chocolate or cocoa mix gives a chocolaty kick to these pancakes, inside and on top. We fold it into the batter and simmer it with the maple syrup for decadent drizzling.
Get the Recipe:Hot Chocolate Pancakes
Fluffy Pancakes
Perfecting the art of the fluffy pancake can be a challenge, but the whipped egg whites in this Fluffy Pancake recipe prove all other methods trivial. They lift the batter, integrating lots of little air pockets for maximum pancake rise and fluff. Light and airy pancakes are the only pancakes that should be allowed in our kitchens because they lift our spirits (similarly to the action of egg whites in this recipe; see above) and also allow us to enjoy a pleasant pancake breakfast (or lunch, or dinner!) without needing a nap immediately after the meal.
Get the Recipe:Fluffy Pancakes
Pineapple Upside-Down Pancakes
Go tropical with these Pineapple-Upside Down Pancakes. Paying homage to the classic Pineapple Upside-Down Cake, these pancakes serve you everything: tanginess from the pineapple, sweetness from the maraschino cherries, buttery, cakey, airy realness from the pancake batter. They're moist and flavorful (and will transport you to that island vacation you've been waiting all summer for).
Get the Recipe:Pineapple Upside-Down Pancakes
Chocolate Chip Pancakes
It's time we give chocolate chip pancakes a round of applause. They're delicious, fun and give us all an excuse to eat chocolate (and, let's be honest, cake) for breakfast without getting judged or feeling guilty. Chocolate chip pancakes are the Guardian angel we've always wanted, but didn't realize we had. There are also so many options for ways to enjoy them; try adding bananas, strawberries or nuts to go with the chocolate. You won't regret it!
Get the Recipe:Chocolate Chip Pancakes
"Instant" Pancake Mix
All out of store-bought mix? Make your own! All you have to do is combine a few dry ingredients and store in your pantry. When an unexpected visitor or aggressive pancake craving comes along, you'll be able to add your wet ingredients and whip up a fresh batch of cakes in a matter of minutes.
Get the Recipe:"Instant" Pancake Mix
Two-Ingredient Banana Pancakes
If love yourself a good pancake, but are gluten intolerant, have Celiac disease or quite simply stay away from gluten, turn to these Two-Ingredient Banana Pancakes. Made simply with eggs and bananas, these cakes will provide you with protein and potassium to power through your morning (and your alliterations!). Add oats and cinnamon for an extra bit of fun, or top them with syrup for the classic experience.
Get the Recipe:Two-Ingredient Banana Pancakes
Pancakes
This classic pancake is a must-have in your repertoire of recipes. It serves as a great basis for pancake toppings, but also stands alone as a lovely, slightly sweet breakfast cake. Pair with lots of scrambled eggs, bacon and fresh fruit, and you've got yourself a versatile, all-pleasing breakfast buffet that will satisfy everyone, from your picky toddler to that neighbor that always shows up unexpectedly.
Get the Recipe:Pancakes
Source: Read Full Article