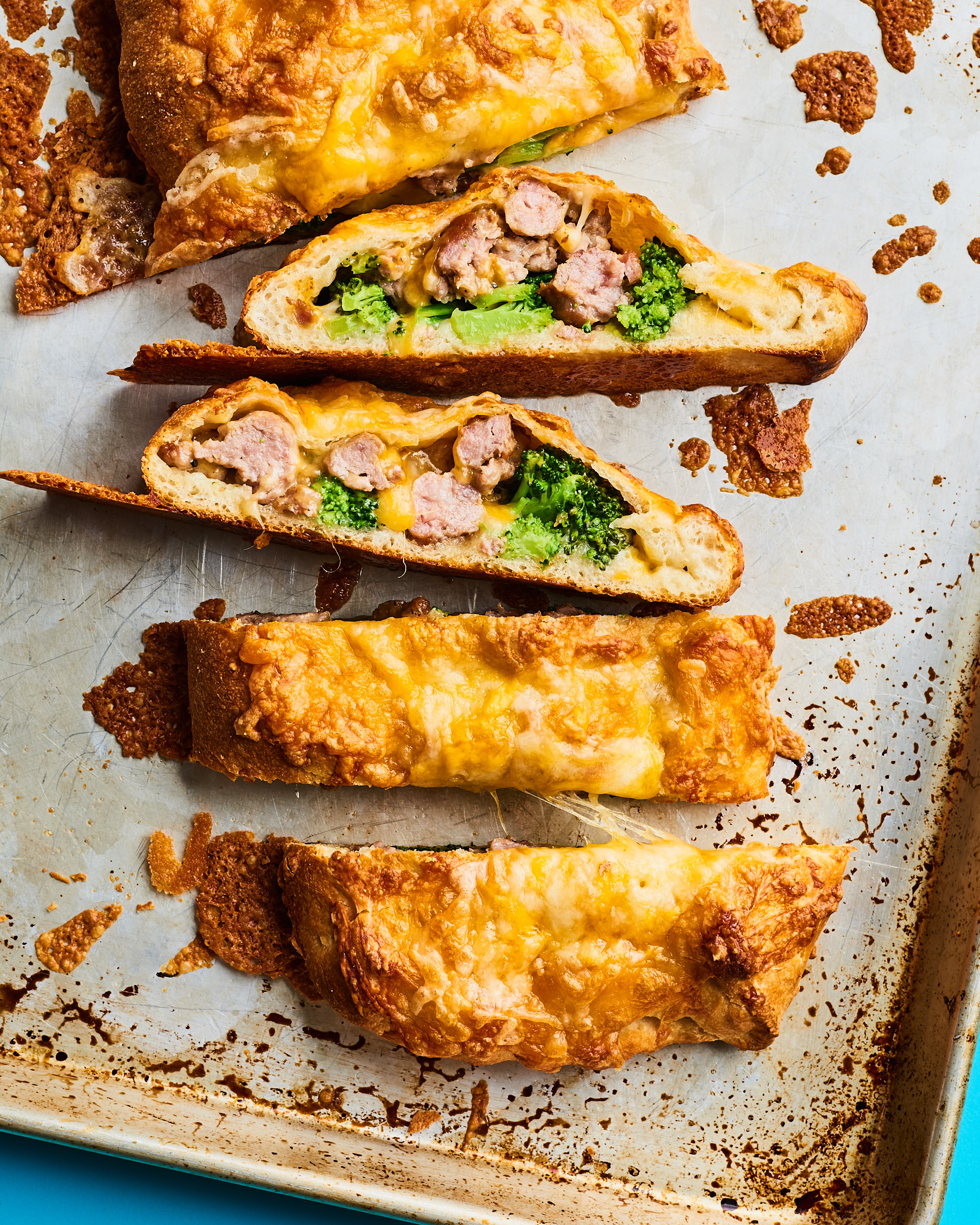 Pizza is in regular rotation at my house. My kids love it, and it's a brilliant way to use up leftovers. But I almost always forget that if I've got pizza supplies, I've got ingredients to make calzones, too.
This particular Miracle Meal came out of one of those winter nights packed with family obligations. I needed a hands-off recipe, and I also needed us to be able to eat it with our hands in the car (never my ideal dinner routine). This large calzone checked all the boxes. It's made from grocery shortcuts (although you could also use leftovers), and can be sliced and taken on the road.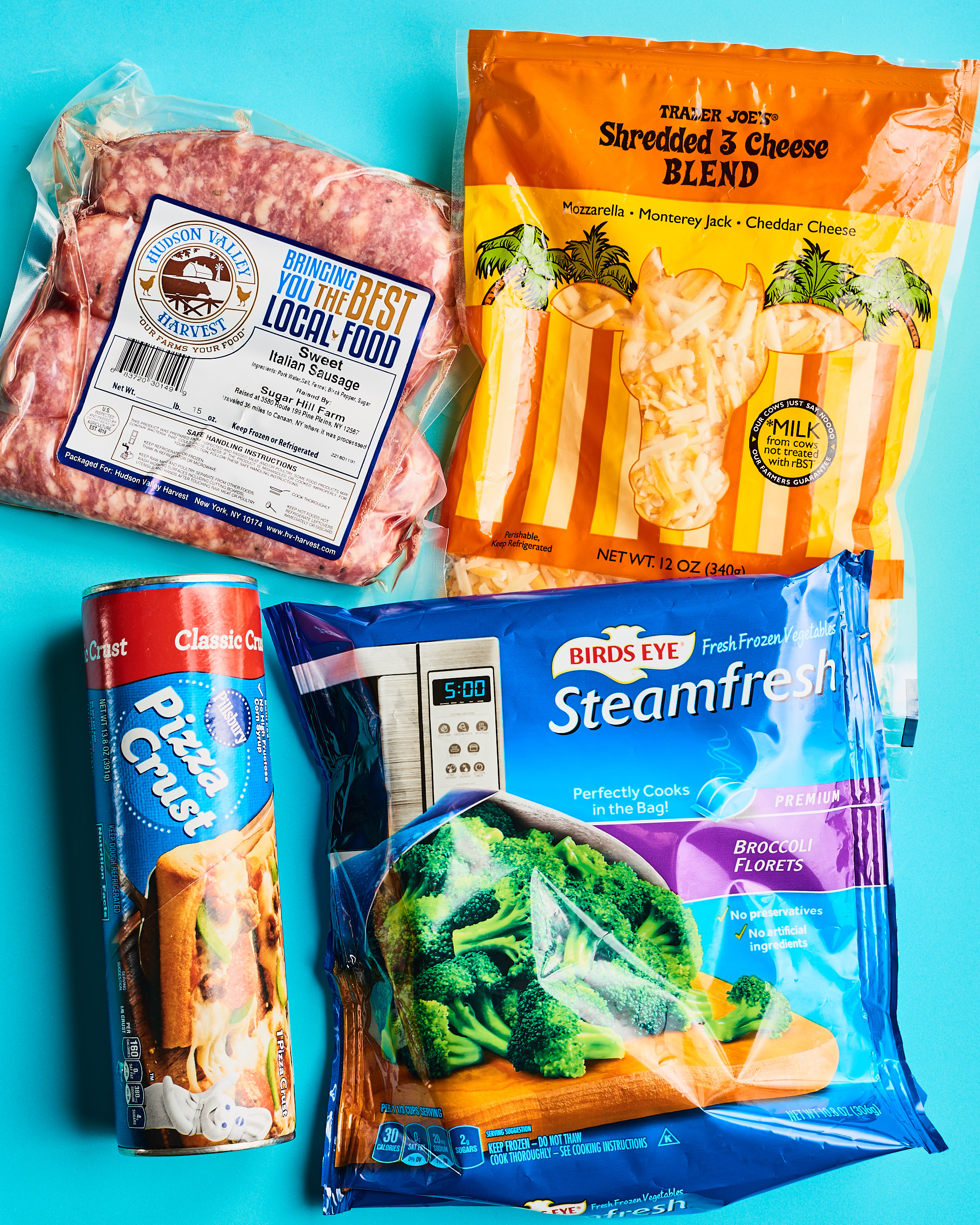 The Easiest Calzone, Ever
Calzones are often labor-intensive because you need to cook the filling before shaping individual pockets. Here, we're using blanched and frozen broccoli to cut down on cook time. If your grocery store carries cooked sausage crumbles, you can use those, too — otherwise just crumble and cook the sausage on the stove before adding it to the filling. Then, you'll make one giant calzone that can be sliced into individual servings after baking.

Miracle Moment: This calzone is already pretty easy, what with the shortcut ingredients, but the real brilliance is the time you save by making one large calzone that you can slice into servings instead of painstakingly shaping four to six individual calzones.
What Is a Miracle Meal?
Miracle meals are the meals we pull off despite the failure of our best-laid plans; the dinners we can get on the table in 10 minutes; the meals made from pantry staples. Miracle meals are just as much about the cooks as they are about the eaters. At Kitchn, a Miracle Meal recipe only uses basic kitchen equipment and no more than five ingredients, with just 40 minutes (or less) of hands-on cooking time.
Sausage Calzone
Ingredients
1

(11-ounce) tube

refrigerated thin pizza crust dough

1

(9-ounce) package

cooked sausage crumbles, such as Jimmy Dean

1

(10-ounce) bag

frozen broccoli

2

cups

shredded cheese, such as cheddar or a cheese blend
Instructions
Arrange a rack in the middle of the oven and heat to 400°F.

Unroll the pizza dough onto a rimmed baking sheet. Sprinkle the sausage down the length of the dough in the center, then top evenly with the broccoli and 1/2 the cheese. Fold the dough over the filling and crimp the edges together to seal. Sprinkle the remaining cheese over the top of the calzone.

Bake until the calzone is deeply browned and the cheese on top is melted, 30 to 35 minutes. Let cool for 5 minutes before slicing and serving.
Recipe Notes
Storage: Leftovers can be refrigerated in an airtight container up to 4 days.
Ingredient Substitution: If you can't find cooked sausage crumbles, cook 8 ounces sausage (casings removed) in a large, hot skillet in a splash of oil, breaking it up with a wooden spoon, until browned and cooked through, about 10 minutes. Transfer to a paper towel-lined plate to drain off any excess fat.
Source: Read Full Article