Holi is a popular Hindu holiday celebrated most commonly in India that is also known as the Festival of Colors. It celebrates the triumph of good over evil and the changing of the seasons from winter to spring. This year, it falls on March 28 through March 29.
As the name suggests, Holi is the most vibrant of all of the Hindu festivals, of which there are many—about 30 of them are the most widely celebrated. Like many Hindu festivals, Holi is connected to popular cultural legends, with this particular festival evolving from the story of a king named Hiranyakashipu. According to a report by Travel + Leisure, Hiranyakashipu thought he was immortal and deserved to be treated as a god. The king's son, Prahlad, was devoted to Vishnu and refused to treat his father like a god in the way he wanted. Ultimately, Hiranyakashipu was killed by Vishnu who appeared in a half-lion, half-man form to kill the king. This is why Holi celebrates triumph of good over evil.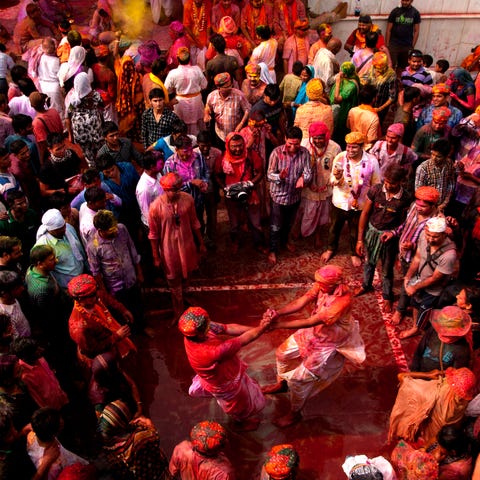 Another Hindu story associated with the celebration of Holi is that of Krishna and Radha. Krishna is one of the incarnations of the god Vishnu who is always pictured with blue skin. The story goes: His skin turned blue as a baby, and when Krishna fell in love with Radha, he was worried the feelings would not be reciprocated because of his skin. Radha let Krishna apply color to her skin and then the two became a couple, which is why part of the tradition for the Festival of Colors is applying color to one another's skin.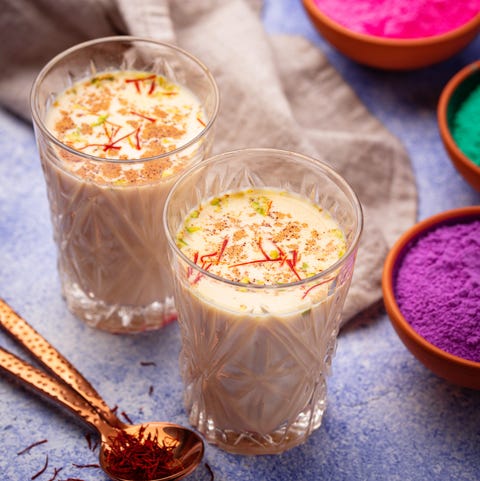 Throughout India, Holi celebrations differ based on the region. Some rituals include praying around a bonfire after sunset, singing, dancing, and playing with colors. Like many holidays, Holi is also characterized by the traditional foods that are eaten during a feast.
Some of the foods that may be on a traditional Holi menu include gujiya which is a sweet fried dumpling made with dried fruits and thandai, a cold dairy drink made with almonds, fennel seeds, watermelon kernels, rose petals, pepper, poppy seeds, cardamom, saffron, milk, and sugar. Other savory Holi dishes include kanji vada, a dish made with lentil fritters and chana masala, which is made with chickpeas. Though the traditions have roots in India, there are many cities across the United States that host their own Festival of Colors celebrations.
Source: Read Full Article