Adding applesauce to cake isn't just a good way to cut some butter out of the recipe. It also makes the cake unbelievably moist with the perfect crumb. It's one of our favorite fall desserts and the added cinnamon plays that up. Be sure to buy unsweetened applesauce so you don't add any extra sugar to the cake. Beating your butter and sugar together until very light and fluffy add extra air to your cake which will make a perfectly lifted cake instead of a dense, weighed down one! The cream cheese frosting is optional, but a great topping to this cake. Sprinkle some toasted nuts like walnuts or pecans on top for the perfect crunch.
Have you made this yet? Let us know how it went in the comments below!
Editor's Note: The introduction to this recipe was updated on July 31, 2020 to include more information about the dish.
Yields: 20 servings
Prep Time: 0 hours15 mins
Total Time: 1 hour20 mins
Ingredients
For the cake
Cooking spray
2 c. all-purpose flour
1 1/2tsp. baking powder
1 tsp. kosher salt
1 tsp. ground cinnamon
1/2c. (1 stick) butter, softened
1/2c. granulated sugar
1/2c. packed brown sugar
2 large eggs
1 tsp. pure vanilla extract
3/4c. applesauce
1/2c. milk
1 c. chopped walnuts
For the frosting
1 (8-oz.) block cream cheese, softened
1/2c. (1 stick) butter, softened
3 c. powdered sugar
2 tbsp. heavy cream
1 tsp. pure vanilla extract
1/2tsp. ground cinnamon
1/4tsp. kosher salt
1/2c. chopped toasted walnuts
This ingredient shopping module is created and maintained by a third party, and imported onto this page. You may be able to find more information about this and similar content on their web site.
Directions
Preheat oven to 350°. Line a 9"-x-13" baking pan with parchment paper and grease with cooking spray.
In a large bowl, whisk together flour, baking powder, salt, and cinnamon. In another large bowl using a hand mixer, beat butter and sugars together until light and fluffy, then add eggs and vanilla and beat until incorporated.
Add dry ingredients to butter mixture and beat just until combined. Add applesauce and milk and beat until just combined, then fold in walnuts.
Pour batter into prepared pan and bake until a toothpick inserted in middle of cake comes out clean, 25 to 30 minutes. Let cool completely.
Meanwhile make frosting: In a large bowl using a hand mixer, beat together butter and cream cheese until smooth. Add powdered sugar and beat until no lumps remain. Add heavy cream, vanilla, cinnamon, and salt and beat until incorporated.
Frost cake and top with toasted walnuts.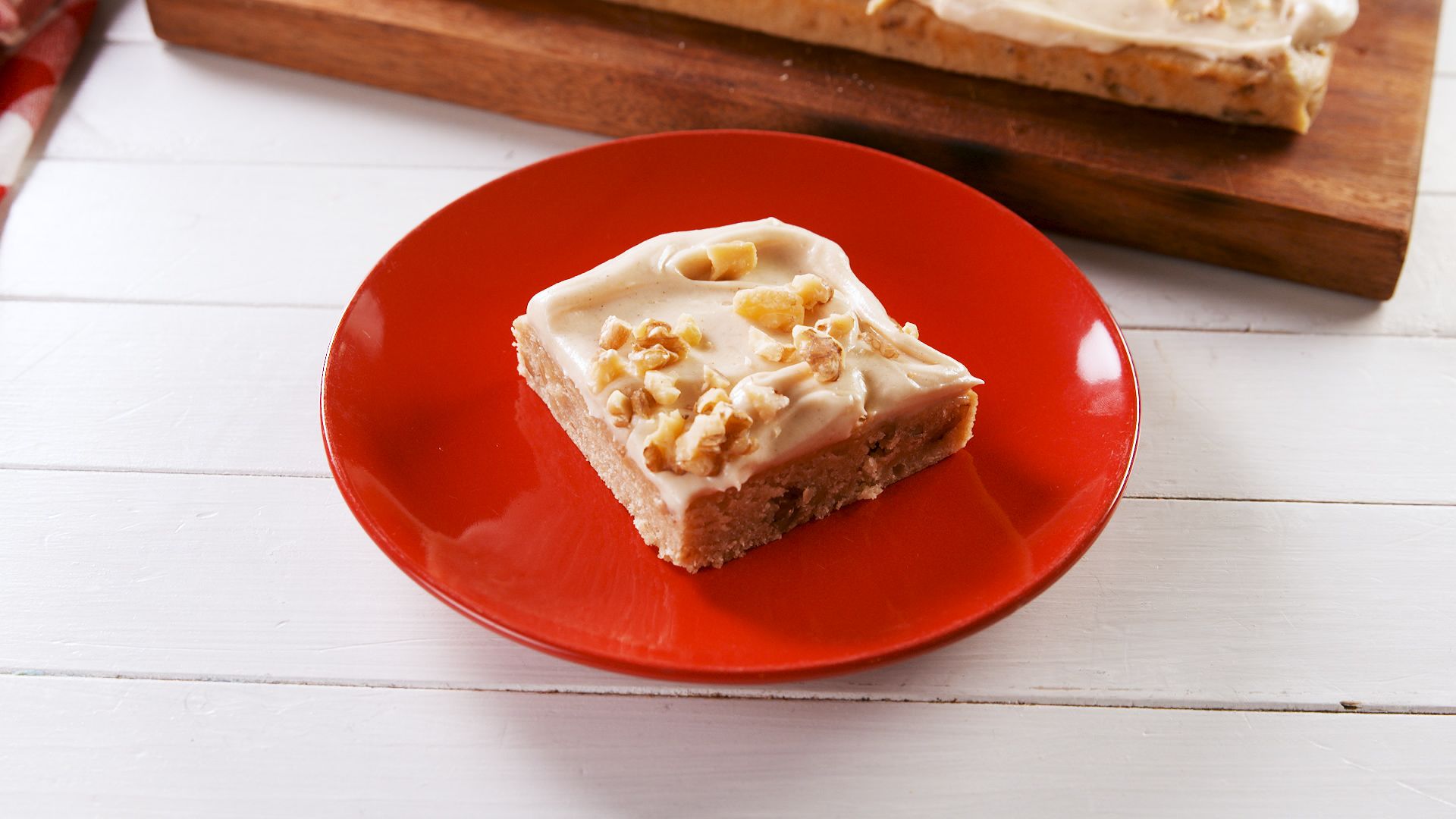 Source: Read Full Article