Total:

1 hr 15 min

(includes cooling time)

Active:

35 min
Ingredients
1 1/2 pounds boneless, skinless chicken breasts (about 2 large breasts)
1/2 cup hot sauce, plus more for serving, such as Frank's
Kosher salt
One 8-ounce block mozzarella, cut into 1/2-inch cubes
4 ounces cream cheese, at room temperature
2 tablespoons blue cheese dressing, plus more for serving
Nonstick cooking spray, for the baking sheet
Two 8-ounce tubes refrigerated crescent roll dough
2 tablespoons crumbled blue cheese
Carrot and celery sticks, for serving
Directions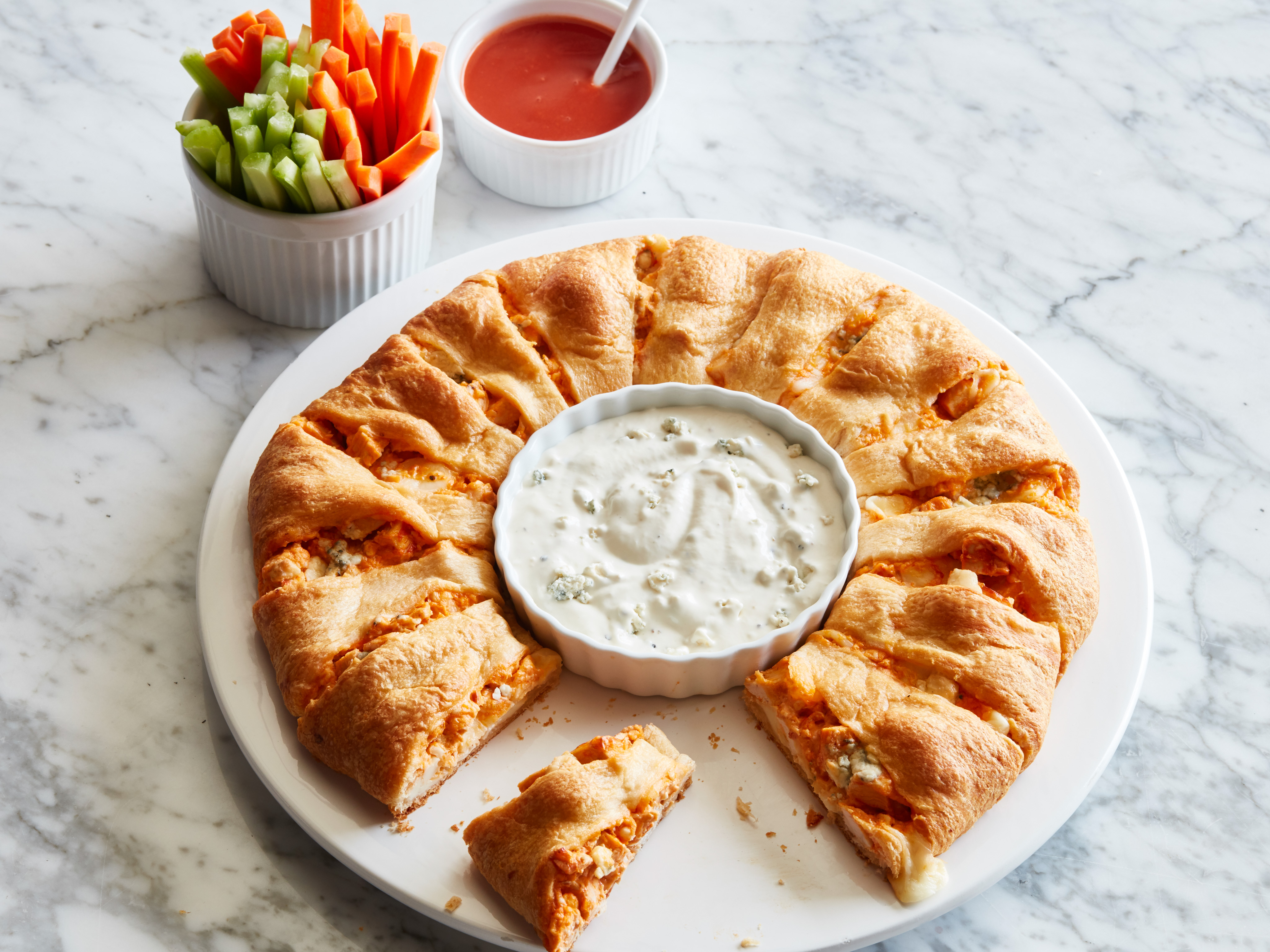 Special equipment:
Preheat the broiler. Line a baking sheet with foil.
Toss the chicken with 1/4 cup hot sauce and 1/4 teaspoon salt in a medium bowl. Transfer to the prepared baking sheet and broil, turning halfway though, until cooked through, about 20 minutes. Reduce the oven to 375 degrees F.
Meanwhile, mix the mozzarella, cream cheese, blue cheese dressing and remaining 1/4 cup hot sauce in a large bowl to combined. Chop the chicken into 1/2-inch cubes and fold into the cheese mixture.
Remove the foil from the baking sheet, turn the sheet over and spray the back with nonstick cooking spray. Unroll both cans of dough and separate into 16 triangles. Place a 5-inch ramekin in the center of the prepared baking sheet. Arrange the triangles in a ring around the ramekin so the short sides of the dough are touching the ramekin, overlapping slightly, and the most pointed ends are facing outward; your dough should look like a giant sun.
Spoon the chicken mixture over the short ends of the triangles closest to the ramekin. Sprinkle the blue cheese on top and remove the ramekin. Take hold of the pointed end of one of the triangles and fold it up and over the filling, tucking the tip under the bottom layer of dough to secure (the dough will not cover the filling completely). Repeat with the remaining triangles; there will be some gaps where you can see the chicken mixture.
Bake until the dough is golden brown and the cheese is melted, about 25 minutes. Let cool for 15 minutes. Use a spatula to slide the ring off the baking sheet onto a platter. Serve with more hot sauce, blue cheese dressing, carrots and celery.
Source: Read Full Article