Total:

7 hr 30 min

(includes chilling)

Active:

30 min
Ingredients
Two 10-ounce boxes shortbread cookies, such as Lorna Doone (about 60 cookies)
One 1.2-ounce package freeze-dried strawberries
Kosher salt
3 tablespoons lightly packed light brown sugar
6 tablespoons unsalted butter, melted
Two 13-ounce jars blueberry jam (about 3 cups)
3 cups cold heavy cream
2 1/4 cups sweetened condensed milk
1 teaspoon pure vanilla extract
1/3 cup confectioners' sugar
3 tablespoons blue nonpareil sprinkles
2 tablespoons white star-shaped candies
Directions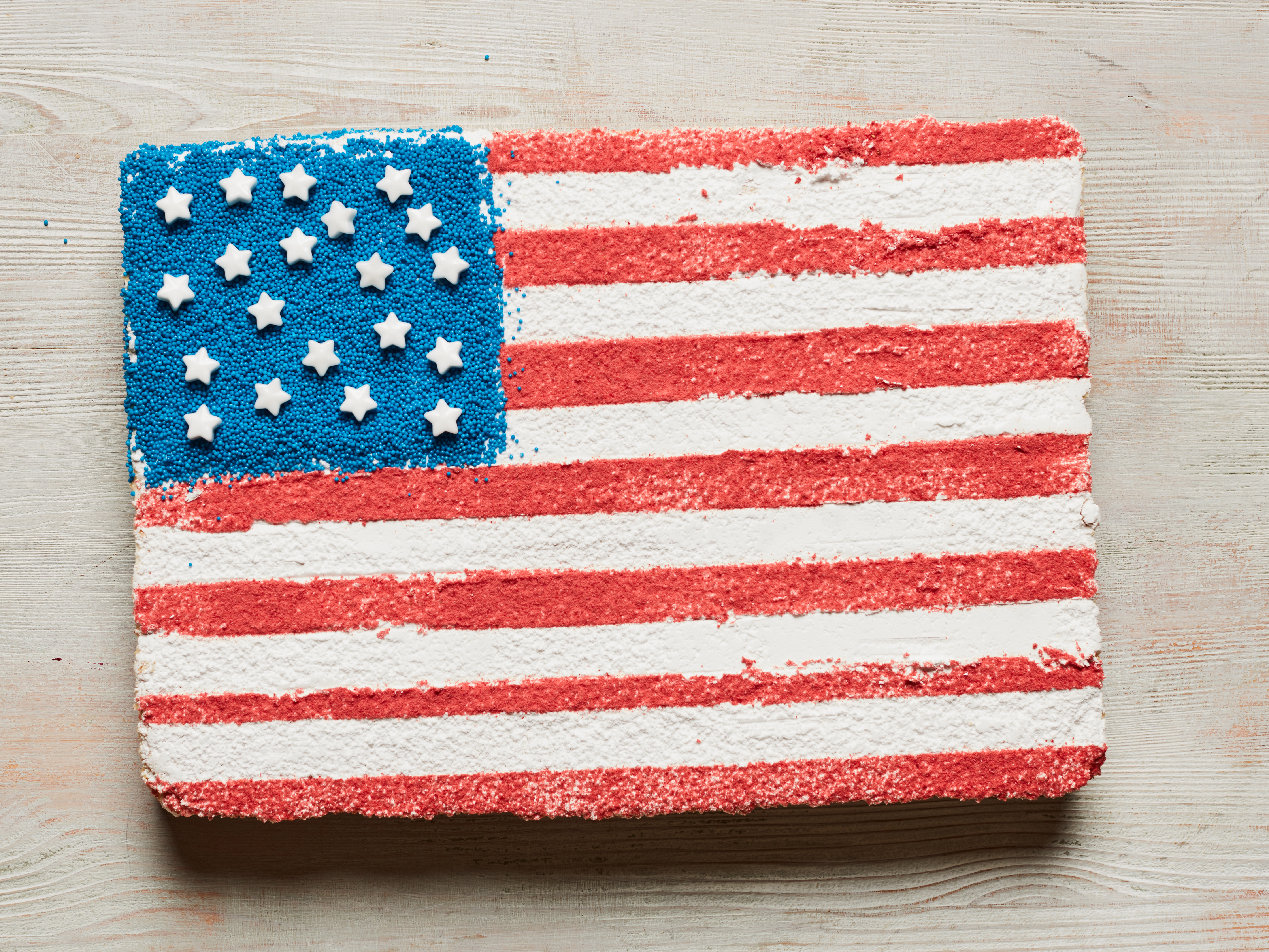 Line a 9-by-13-inch metal baking pan with foil, leaving a 2-inch overhang on all sides.
Pulse the shortbread cookies in a food processor until finely ground. Transfer the crumbs to a medium bowl and set aside. Add the freeze-dried strawberries to the food processor and pulse until finely ground. Remove 1/4 cup of the ground strawberries to a separate bowl and set aside. Reserve 1 cup of the cookie crumbs for the topping. Add the rest of the cookie crumbs to the food processor along with 1/2 teaspoon salt and the brown sugar and pulse to combine. With the processor running, drizzle in the butter and continue to process until the crumbs are coated and the mixture resembles wet sand. Press the mixture evenly into the bottom of the prepared pan. Spoon the jam over the crust and spread into an even layer with an offset spatula. Cover with plastic wrap and freeze while you make the ice cream.
Whip the cream in a large bowl with an electric mixer on medium-high speed until firm peaks form, about 2 minutes. Reduce the mixer to low speed. Add the sweetened condensed milk, 1/4 teaspoon salt and the vanilla, then raise the mixer to medium speed and beat until combined and the mixture has soft peaks.
Pour the cream mixture over the jam and spread evenly with an offset spatula. Cover with plastic wrap and freeze until solid, at least 6 hours and up to 12 hours.
Meanwhile, cut six 3/4-inch-thick strips of parchment that are at least 13 inches long. Cut a 4-by-5-inch square from parchment as well.
Using the foil overhang, lift the assembled dessert out of the pan and place onto a cutting board with a long side facing you. Sprinkle the reserved shortbread crumbs to cover the ice cream layer completely in an even layer. Using a fine-mesh sieve, sift the confectioners' sugar over the shortbread crumbs in an even layer until the top is completely white.
Place the 4-by-5-inch piece of parchment on the top left-hand corner of the dessert. Arrange the parchment strips in even intervals across the cake, starting 3/4-inch from the top and stopping 3/4-inch from the bottom. Using the fine-mesh sieve, dust the reserved ground strawberries in an even layer over top of stencils. Carefully remove all the parchment templates. Sprinkle the blue sprinkles over the blocked-off corner area in an even layer. Scatter the star candies on top of the blue sprinkles. Slice into 12 equal pieces using a sharp knife to serve.
Source: Read Full Article