Yield:

8 servings

Nutrition Info

Nutritional Analysis

Per Serving

Calories

242

Total Fat

16 grams

Saturated Fat

6.6 grams

Cholesterol

117 milligrams

Sodium

998 milligrams

Carbohydrates

5 grams

Dietary Fiber

3 grams

Protein

18 grams

Sugar

0 grams
Ingredients
Meatballs:
Soup:
Directions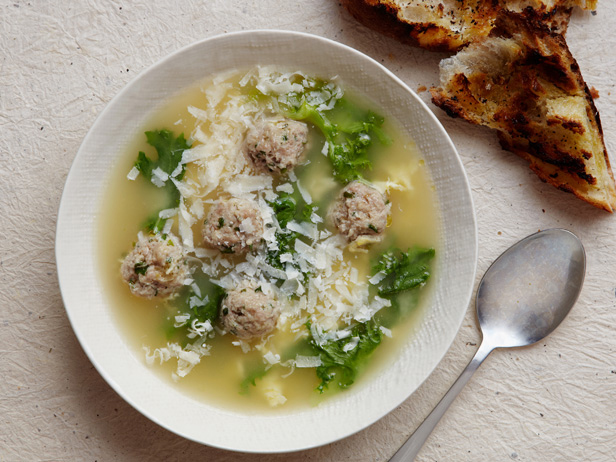 To make the meatballs: Stir the first 6 ingredients in a large bowl to blend. Stir in the cheese, beef and pork. Using 1 1/2 teaspoons for each, shape the meat mixture into 1-inch-diameter meatballs. Place on a baking sheet.
To make the soup: Bring the broth to a boil in a large pot over medium-high heat. Add the meatballs and curly endive and simmer until the meatballs are cooked through and the curly endive is tender, about 8 minutes. Whisk the eggs and cheese in a medium bowl to blend. Stir the soup in a circular motion. Gradually drizzle the egg mixture into the moving broth, stirring gently with a fork to form thin stands of egg, about 1 minute. Season the soup to taste with salt and pepper.
Ladle the soup into bowls and serve. Finish soup with parmesan cheese if desired.
Source: Read Full Article