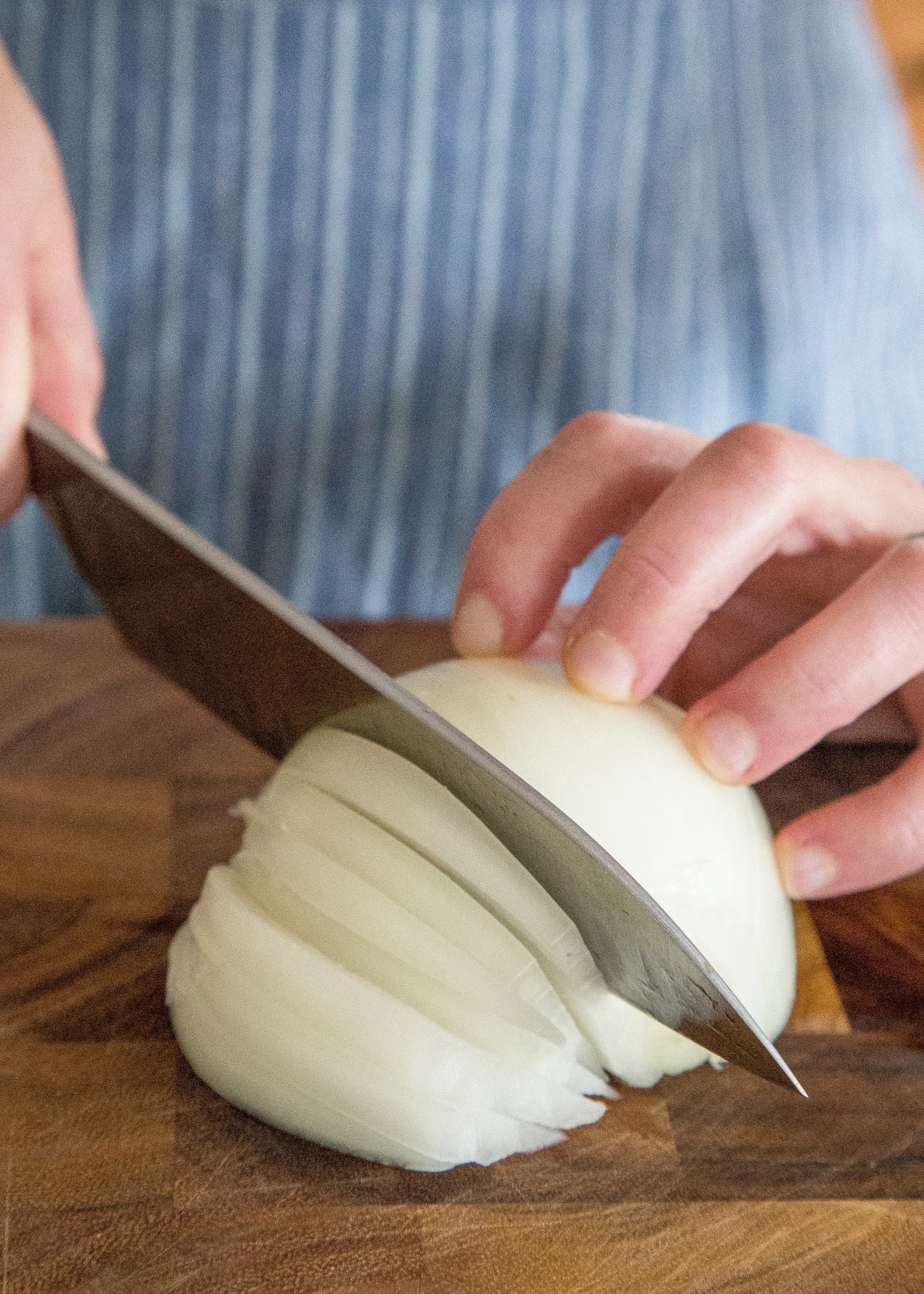 For all the talk around wood versus plastic, there's very little talk about the SIZE of cutting boards. And this is one case where size really does matter. One of the biggest knife-related mistakes we see time and time again? People opting for cutting boards that are too small.
Why You Need to Use a Bigger Cutting Board
A too-small cutting board is not only awkward to use, but it can also be unsafe! We've all done it before: You've pulled out a little guy, thinking you just have to mince some garlic. Then, you remember that tomato that needs to be sliced. And those onions that you wanted to caramelize. Before you realize it, you've got a crowded board with food all over — and all over your counter. You can't see what you're doing. And you can't slice a mushroom without getting your knife stuck on a sweet potato wedge. The chaos!
Get a board that's bigger — no, even bigger than whatever you're picturing — and you'll have room to maneuver your knife safely, properly hold whatever needs dicing, and pile up chopped stuff before it gets dropped into your pan.
What Size Cutting Board Should You Use?
A good rule of thumb is that, when the knife is laid diagonally across the cutting board, there should be at least an inch of cutting board on either end of the knife. You can use a smaller board with your paring knife, a bigger one with a santoku, and size way up for your eight- or ten-inch chef's knife. Of course, if you want to use a giant board with a paring knife, we're not going to stop you.
And now, here are a few of our favorite jumbo-sized cutting boards — in plastic, wood, and more sustainable materials.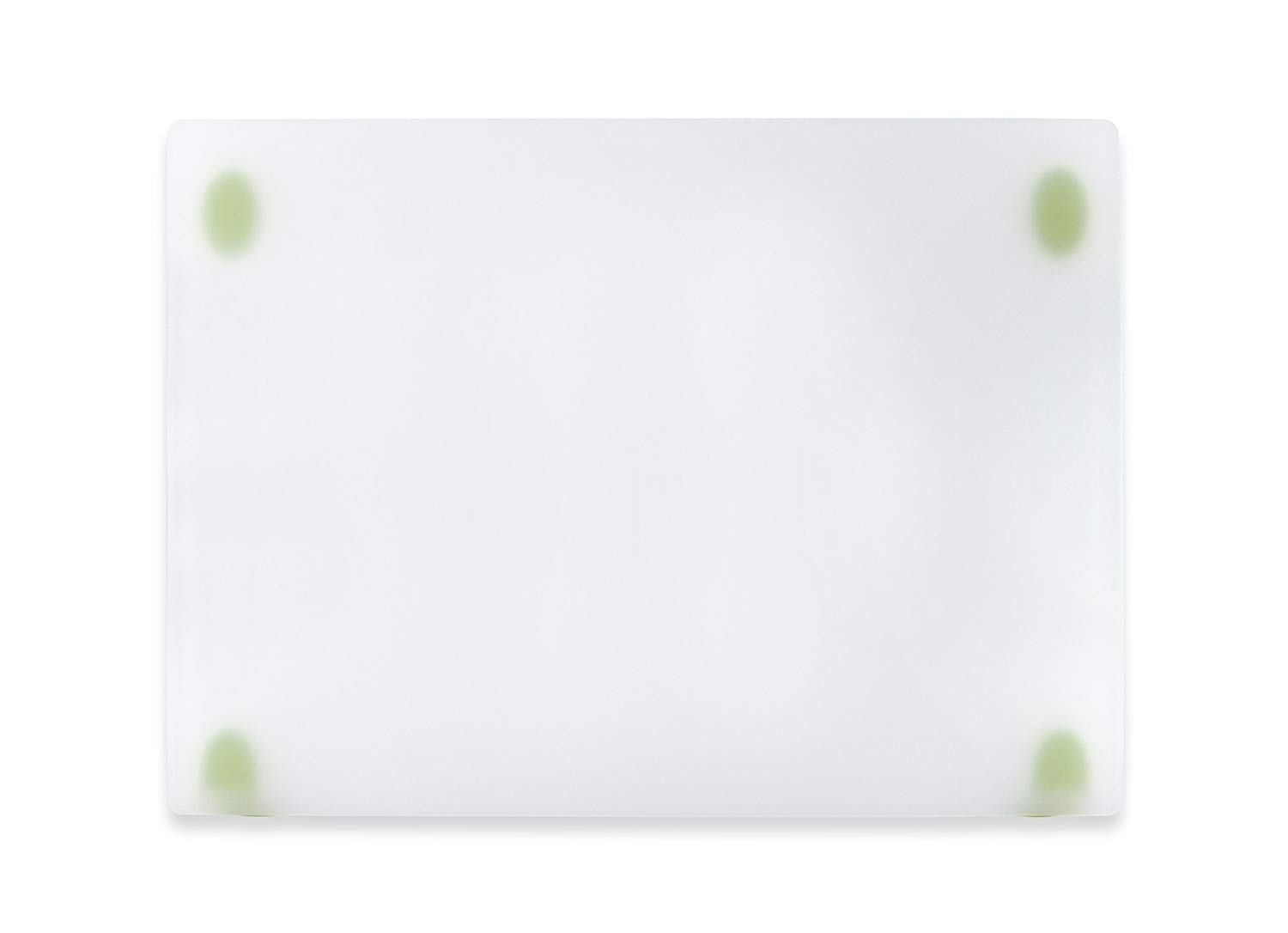 1. Dexas Kitchen Workboard, $25
From the photo, this 12.5×17-inch cutting board doesn't look like much, but it's actually super smart. Those green blobs you see are nonstick skids and, for even more help keeping the board in place while you work, it's got a lip in the front that hooks over the side of your countertop. And it's made of dishwasher-safe polypropylene that's easy on knives, non-porous, and odor resistant.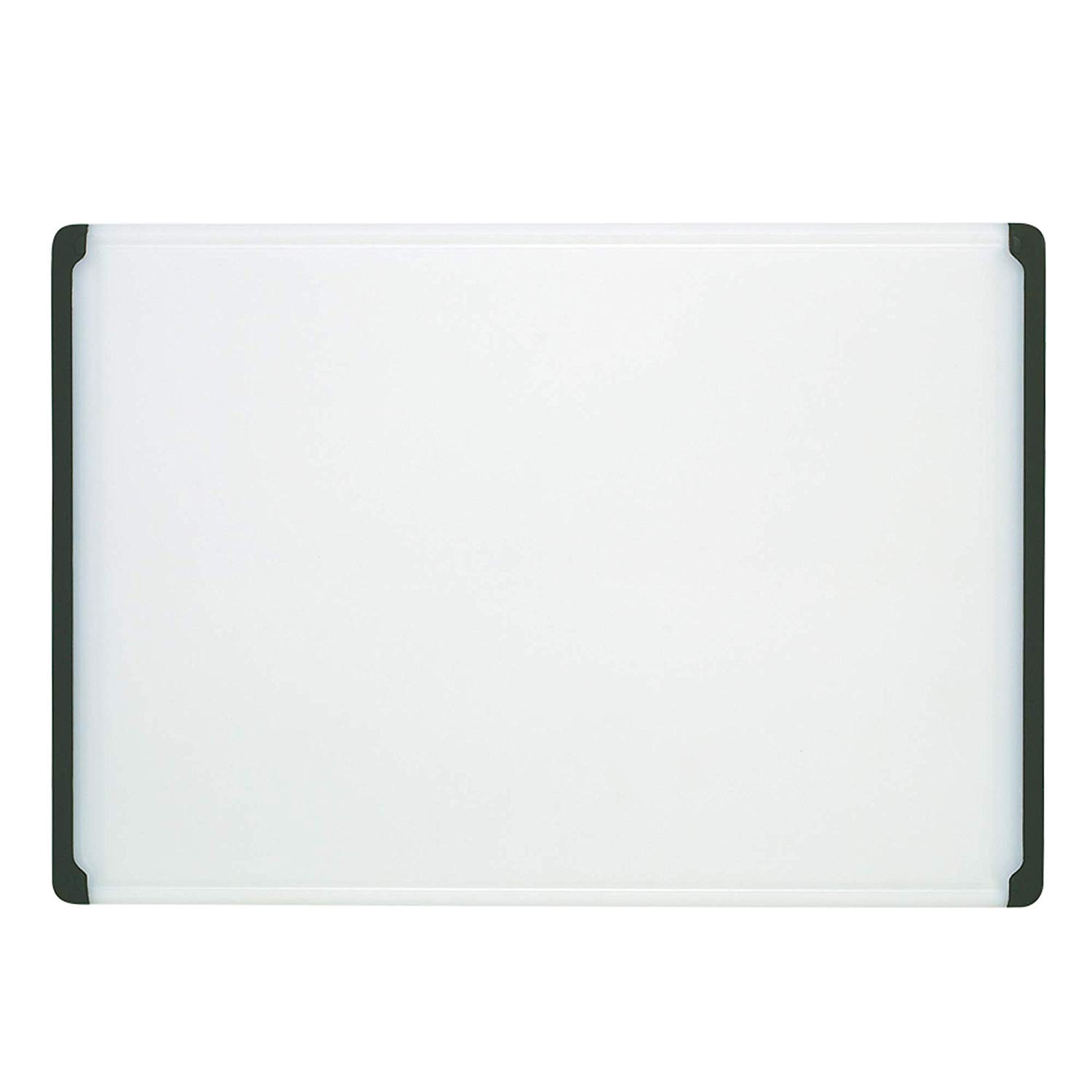 2. OXO Good Grips Cutting and Carving Board, $25
Of course we're going to include OXO in a roundup of the best cutting boards. This nearly 15×21-inch board is large enough for you to prep a bunch of vegetables or carve a 12-pound turkey. Also made of polypropylene, this board has nonslip edges and is reversible.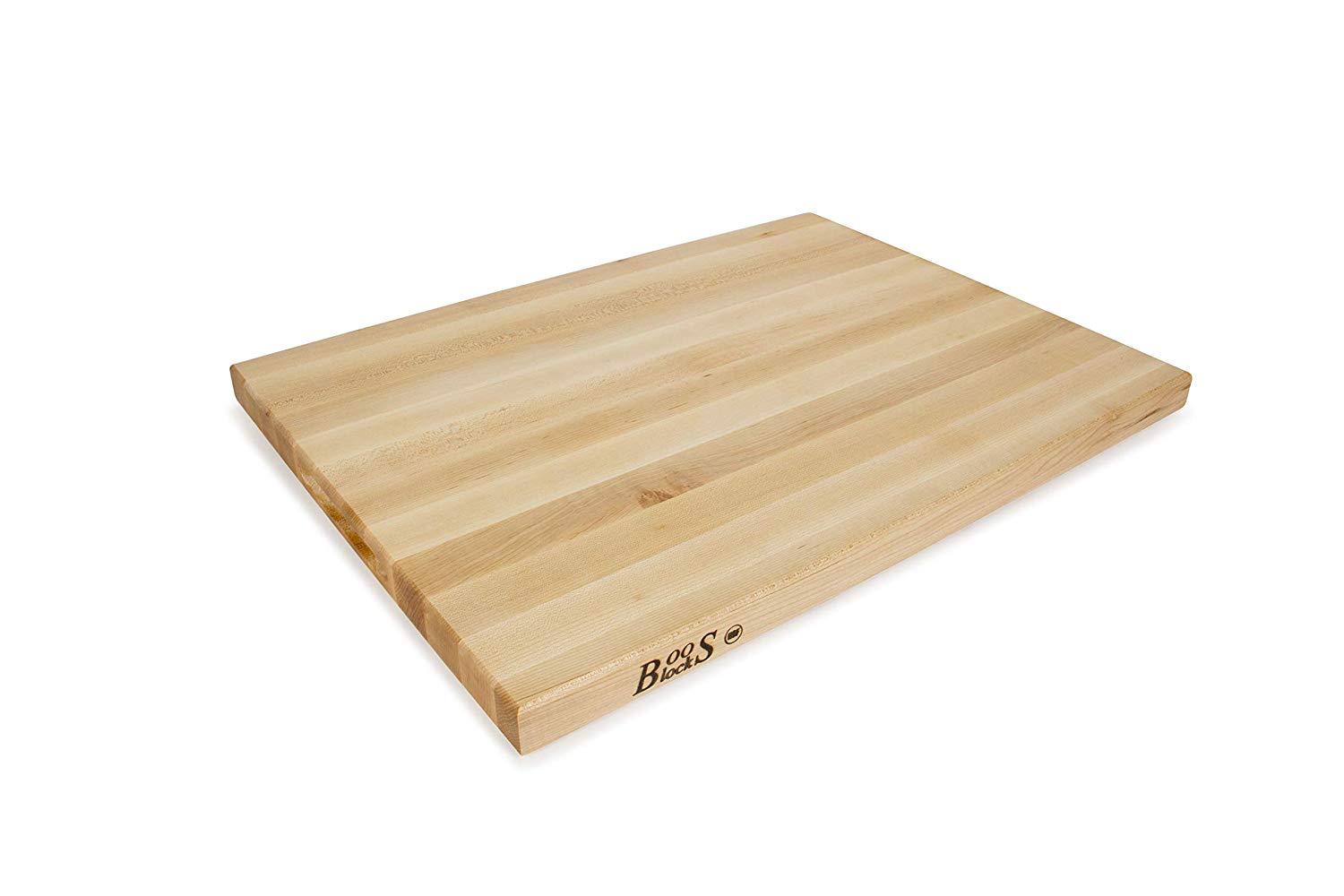 3. John Boos Maple Wood Edge Grain Reversible Cutting Board, $86
You'll see John Boos cutting boards in many restaurant kitchens, and for good reason: They're built to last, as long as you take care of them and clean and oil them properly. This reversible option measures 24×18 inches and is made out of durable maple wood. Plus, it has built-in grips on the side to help you pick it up.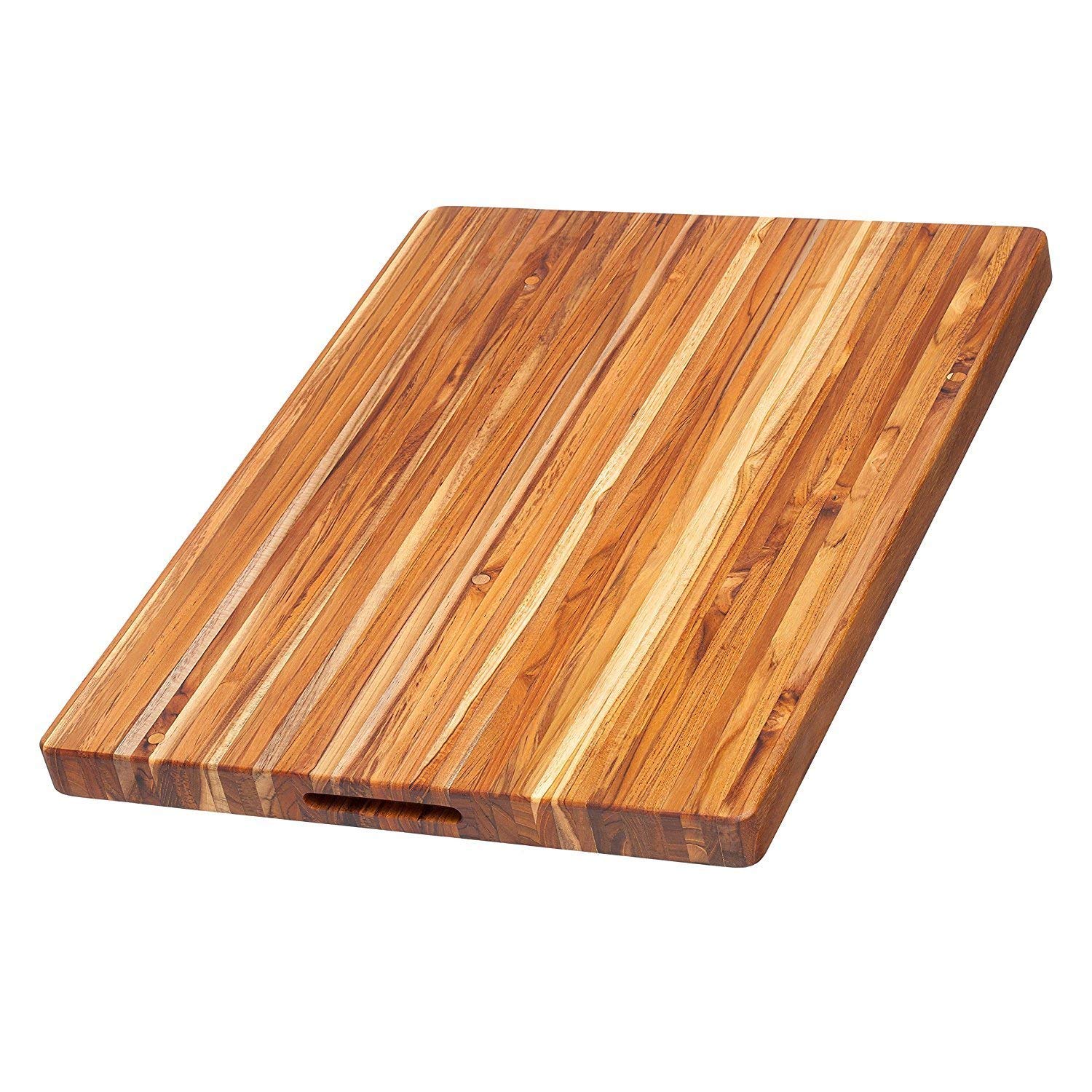 4. Teakhaus Rectangle Carving Board with Hand Grip, $100
Although not as well-known as Boos, Teakhaus consistently ranks among lists of best cutting boards (the folks at Cook's Illustrated and America's Test Kitchen especially seem to love the brand). See, teak is durable, water-resistant, and low-maintenance. Measuring 24×18 inches, this board is also double-sided, with built-in handles to help you flip or move it around.
5. Epicurean Prep Series Cutting Boards, $35 for set of three
Don't want wood or plastic? Epicurean boards are made of an eco-friendly, paper composite. Yup, paper! Yet they're still totally dishwasher-safe and heat-safe up to 350°F, meaning you can use one as a trivet in a pinch. This set comes with three boards, the largest of which is 17×11 inches.
Source: Read Full Article