If you're a Costco-lover, you already know that the Kirkland Signature brand is the most reliable generic option out there. Not only are Kirkland items just as high-quality as name brands, but, in many cases, they're also even better! Costco has strict standards for Kirkland items and most are tested against name brands before being put on the floor (a rumor that I confirmed with my local Costco manager last year!). And new Kirkland stuff comes out all the time.
During a recent trip to my local Costco, I decided to see what was new and what was also a smart, nutritional pick for a healthy treat or snack. Here are five choices that get an A+ from me in terms of taste, price, and overall quality.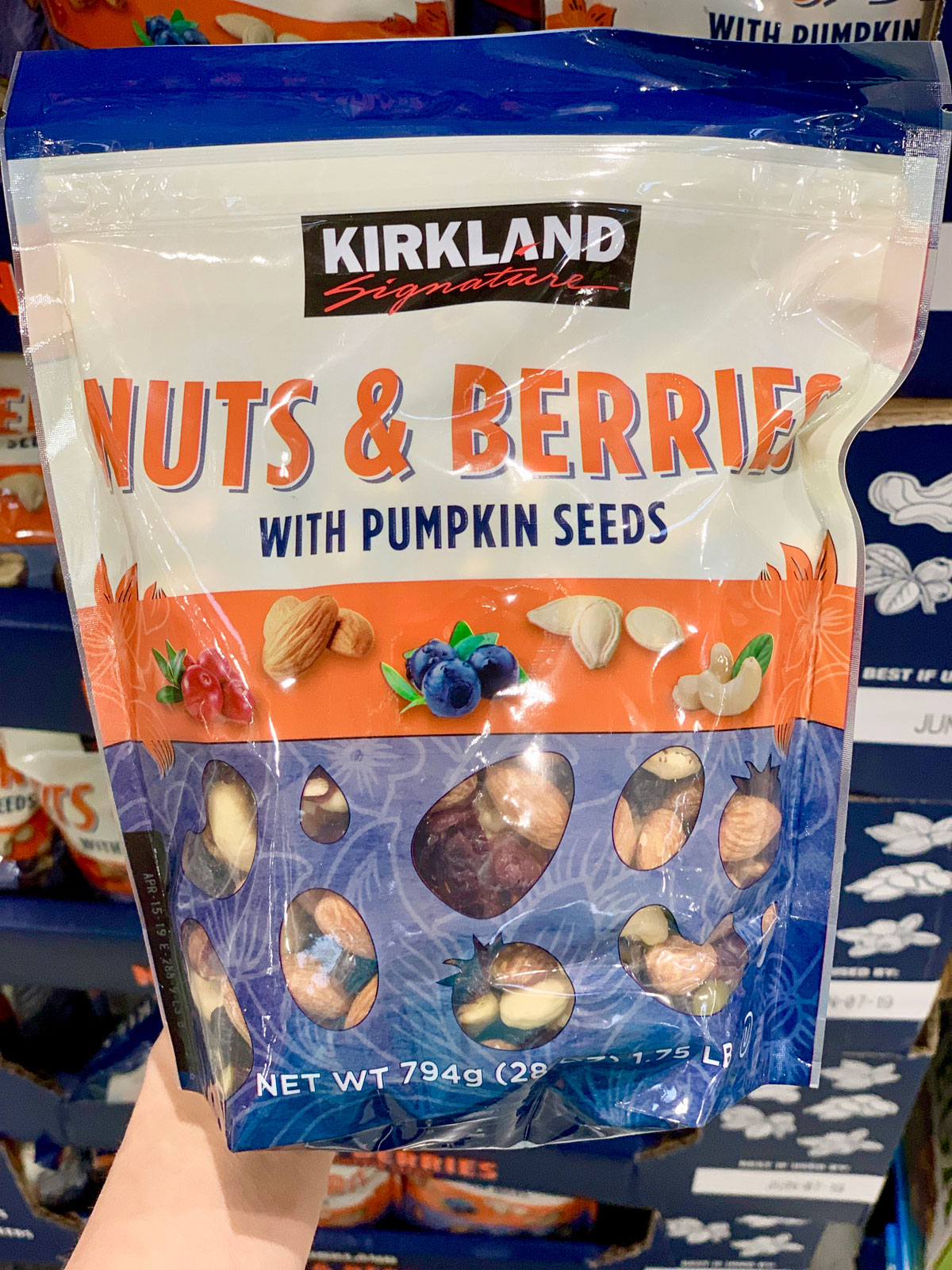 1. Kirkland Signature Nuts and Berries with Pumpkin Seeds, $9 for 28 ounces
Love trail mix? Then this belongs in your cart! Of all the trail mixes Costco has offered since I started shopping there two years ago, this one is my favorite. It's a mix of almonds, cashews, cranberries, shelled pumpkin seeds, and blueberries and is a great source of important minerals, protein, iron, and fiber.
The pumpkin seeds are fresh and crunchy (not burnt-tasting like some roasted varieties can be), the nuts are super fresh and flavorful, and the mix is not loaded with salt or sugar. The tangy cranberries and the sweet and juicy blueberries are irresistible and oh-so-refreshing. This is definitely not your average trail mix that's loaded with boring peanuts and raisins!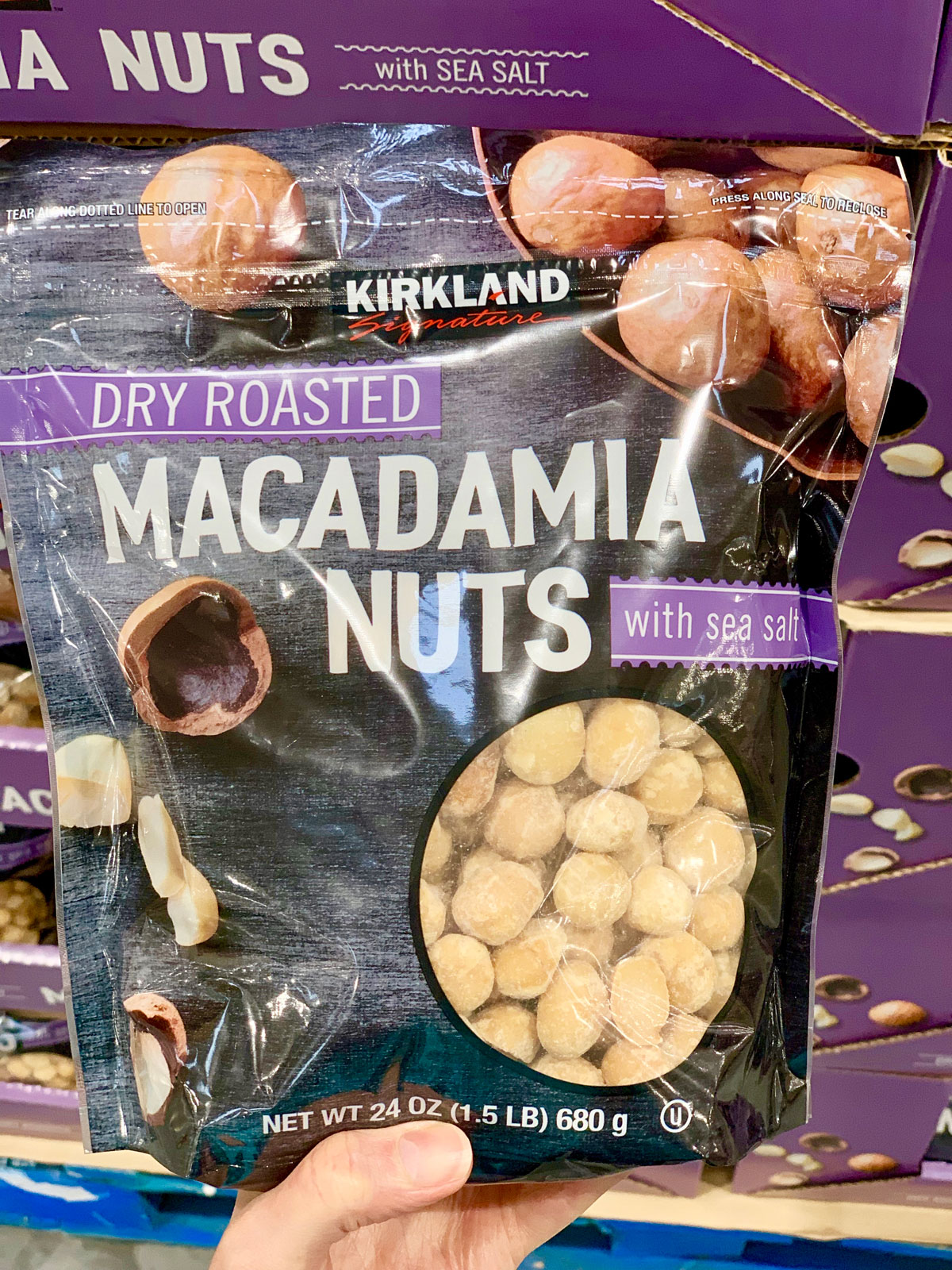 2. Kirkland Signature Dry Roasted Macadamia Nuts with Sea Salt, $20 for 16.5 ounces
Macadamia nuts are a little pricey, but happen to be full of health benefits and flavor. These tropical nuts are rich in plant-based monounsaturated fatty acids, which are great for heart health and are also high in minerals like magnesium and manganese (important for metabolic and nervous system health!).
With a rich, buttery flavor and underlying sweetness, macadamia nuts make a great addition to salads, yogurt, or oatmeal. Just be careful — it's way too easy to eat half the bag in one serving! Luckily, this is one of the best-priced bags I've been able to find.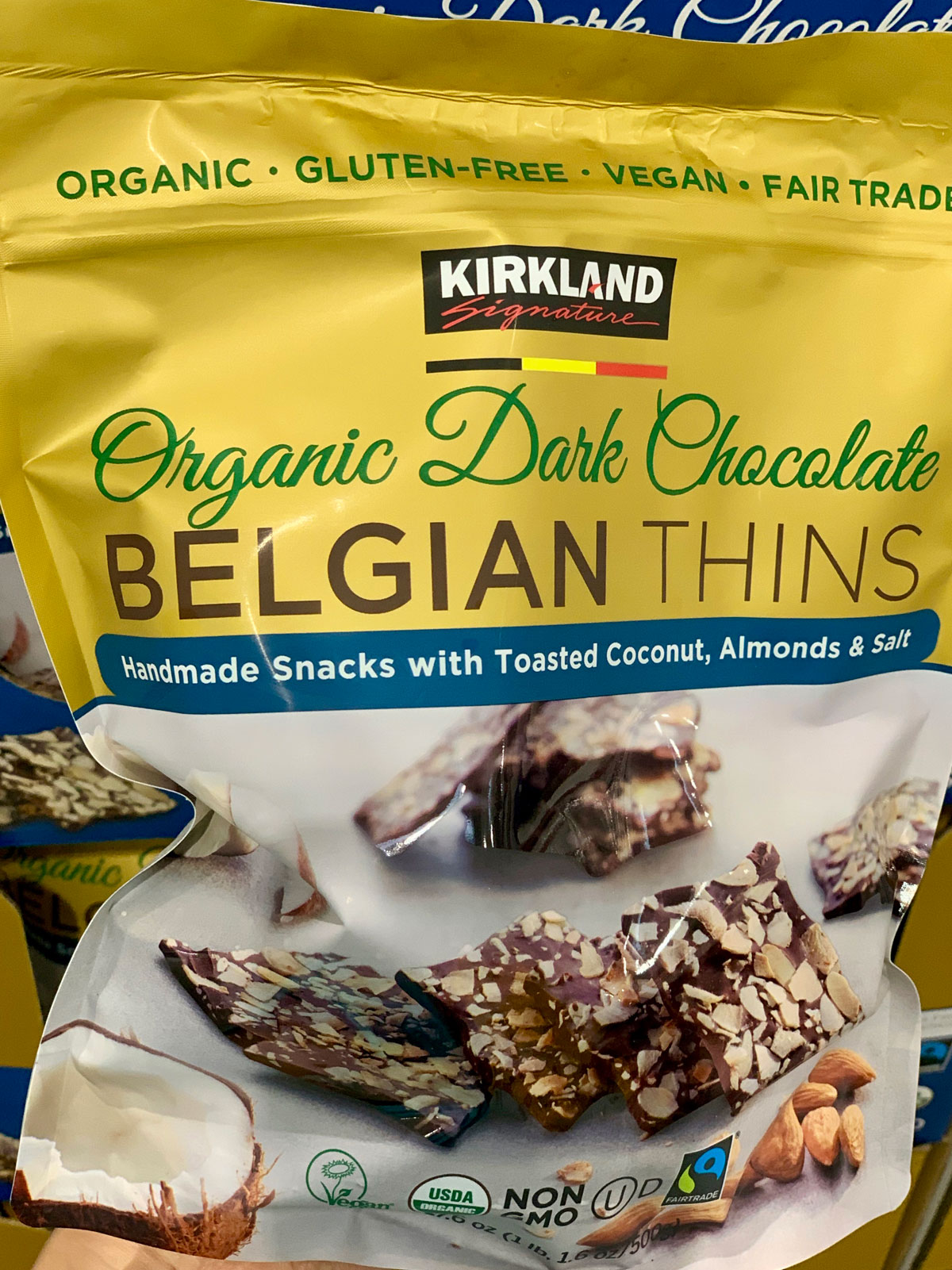 3. Kirkland Signature Organic Dark Chocolate Belgian Things, $9 for 17.6 ounces
Of all the Kirkland items I've tried in the last 12 months, this is hands-down the best. I couldn't pass it up when I saw it at my local Costco, not only because I'm a dark chocolate fanatic, but also because it's reasonably priced and nutritionally smart for such a high-quality treat.
The rich Belgian chocolate is filled with freshly toasted coconut and crunchy almond pieces — and it has very little sugar per serving. It's just sweet enough without causing a sugar crash later on. It's also organic and contains no refined, artificial, or genetically modified ingredients and you can really taste the difference here. I love it cold, so I keep it in the freezer (where I'm also less likely to reach for it all day long).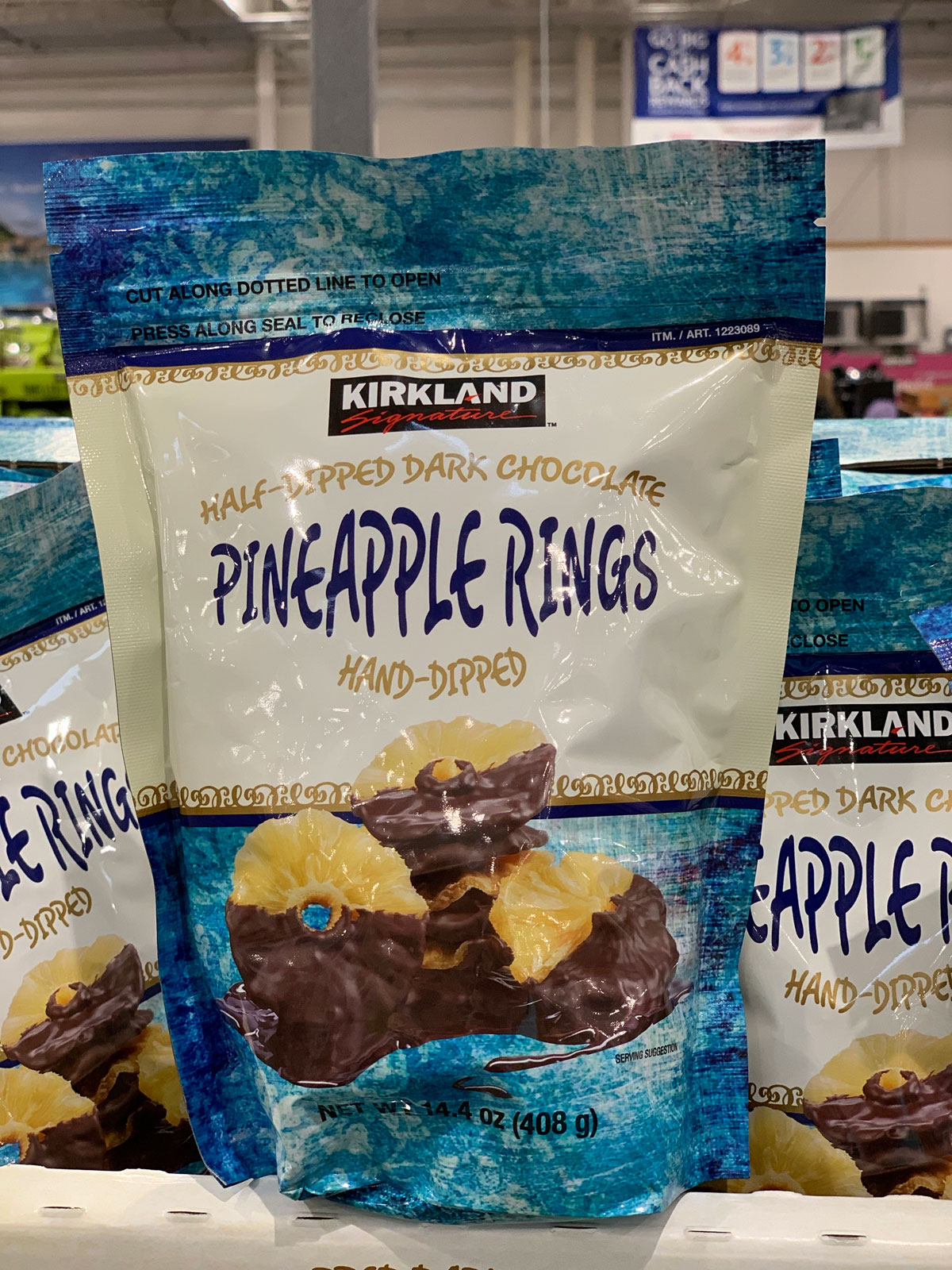 4. Kirkland Signature Half-Dipped Dark Chocolate Pineapple Rings, $10 for 14.4 ounces
What I really appreciate about this dried pineapple is that you can actually taste the pineapple and it's not just sugar. Which is saying a lot, considering it's also got a dark chocolate coating. These are a fun addition to all the chocolate-dipped items I've seen at Costco this last year and would make a great sweet treat (in moderation) after dinner.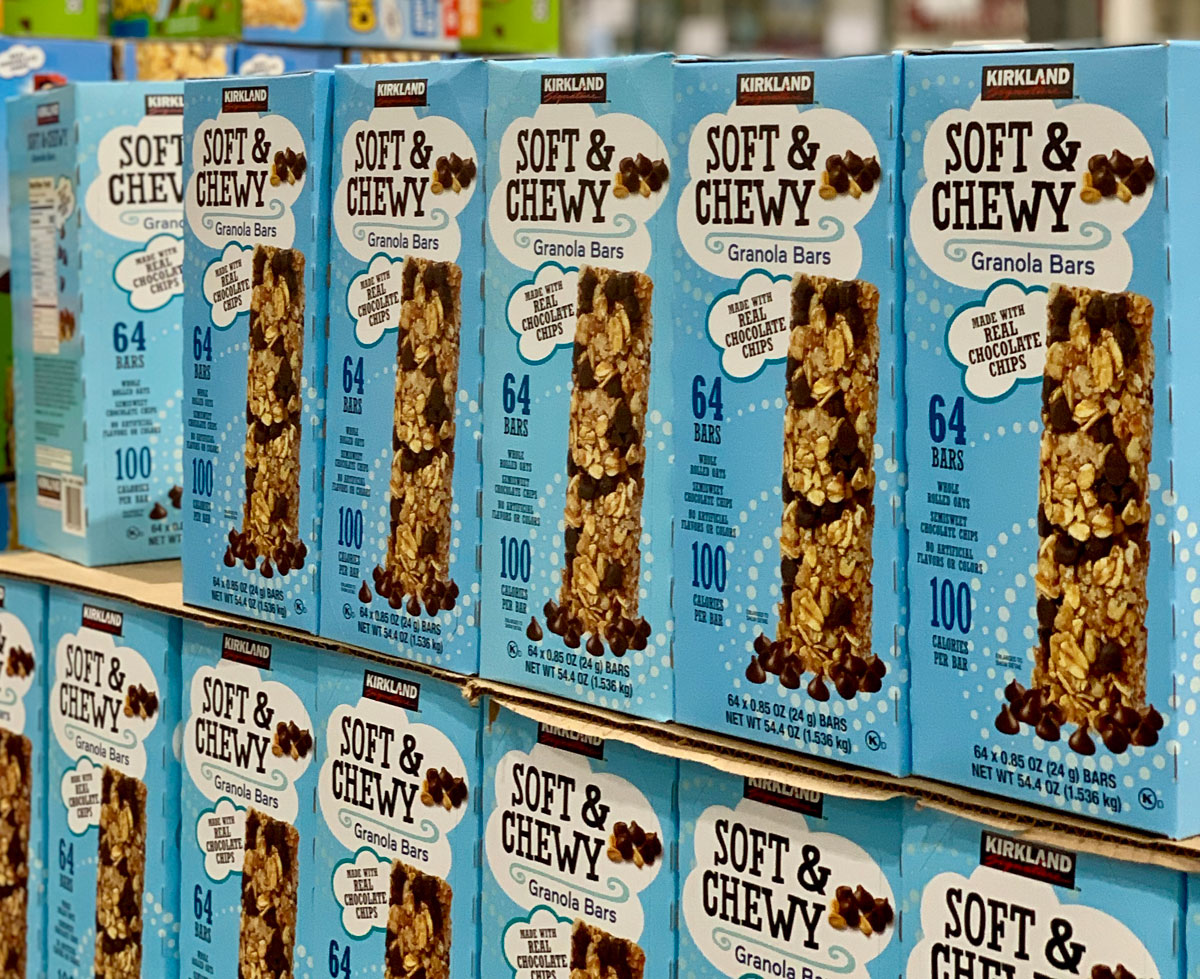 5. Kirkland Signature Soft and Chewy Granola Bars, $8 for 64 bars
Costco has had a wide range of chewy granola bars available, but these whole-grain bars are new to my store. Unlike other brands, these are made with whole grains; have no artificial colors, sweeteners, or preservatives; and are made with semi-sweet (not milk) chocolate chips, so they're lower in overall added sugar.
I love how the oats in this bar are super flavorful and chewy, and I don't get a sugar crash an hour after eating one. Pack one or two of these up as a healthy afternoon snack or lunch treat, or pair one with an apple, orange, or banana for a last-minute on-the-go breakfast.
What are some of your favorite Kirkland Signature items you've tried lately?
Source: Read Full Article