A good pizza cutter is hard to find. That's we scoured the internet for the best ones on the market, scrolling through hundreds of lengthy reviews. Here's what we found: 
Why Do You Need a Good Pizza Cutter? 
To cut pizza! Duh. You could use a regular knife in a pinch (no judgment here), but it'll be needlessly tough. A knife doesn't glide easily through the pie the way a pizza cutter does and, unless your knife skills are out of this world, it won't give you clean edges. 
Also, if you've been using the same pizza cutter for the last decade, it might be time to replace it with a newer model. Your blade has probably been deteriorating over time without you even noticing. The best, most delicious pizza deserves only the best, sharpest pizza cutter, right?
Related: How to Make Your Best Pizza Yet
Types of Pizza Cutters
Pizza wheel: This is the most common type of pizza cutter. Using the long handle, the user pushes the rotating, circular blade to cut the pizza. You can use pizza wheels for other purposes, too (think crafting and pastry trimming). 
Mezzaluna: A mezzaluna, or rocker pizza cutter, is a large curved knife that the user rotates back and forth to cut the pizza. "Mezzaluna" means "half moon" in Italian. 
Shears: You can use regular kitchen shears to cut pizza, but you can also purchase pizza-specific scissors that are ergonomically designed to easily cut simple slices. These look like regular scissors, but the bottom blade is flat. 
Best Pizza Cutters At a Glance
Best All-Around: KitchenAid Classic Pizza Wheel; $9.99 (was $11.99), Amazon
Runner-Up: OXO Good Grips Pizza Wheel; $13.99, Amazon
Honorable Mention: Cuisinart Pizza Cutter; $14.93, Wayfair
Best Budget-Buy: Progressive Prep Solutions Pizza Wheel; $5.99, Amazon
Best Rocker: Kitchenstar Stainless Steel Pizza Cutter; $15.99 (was $25), Amazon
Best Scissors: Fiskars Kitchen Shears; $24.99, Amazon
Best All-Around: KitchenAid Classic Pizza Wheel
Buy it! $9.99 (was $11.99), Amazon
KitchenAid is pretty much the gold standard for quality kitchen appliances and this top-rated 9-inch pizza wheel is no exception. 
The sturdy stainless steel blade is able to cut through even the thickest of slices, while the angled handle is designed for comfortable cutting. 
Reviewers say the simple and stylish tool is durable, cuts perfectly, and is easy to clean. Best of all? It's essentially wobble-proof. 
"A pizza cutter is kind of a non-essential item that I use every once in a blue moon, so I wasn't sure how much to pay for an item I use so infrequently," one happy customer explains. "Usually, these are wobbly things I pick up at the dollar store, but this was only $10, not really a crippling amount of money, and the reviews made me intrigued to see what a nice pizza holder would be like. Well, this thing sure is nice. I can't believe how easy and smoothly it cuts and it's always ultra sturdy (never any wobble). It's also way larger than other pizza holders I've owned, which is a benefit."
"Of all the pizza cutters I've ever had, this is the best. It looks and feels beyond sturdy. When I took it out of the box, I thought it looked like a sculpture. It also cuts through pizza better than any of the other crappy ones I've had—which are many," raves another. "This is your pizza cutter for life. Doesn't look like it's ever gonna break, but if it does, I want a few backups."
Details:
9 inches long
430 stainless steel
Angled handle with built-in finger guard
Runner-Up: OXO Good Grips Pizza Wheel
Buy it! $13.99, Amazon
Here's another brand that's never let us down. This handle, which comes with a zinc thumb guard, is especially great for people who struggle with gripping other types of handles. 
Reviewers say this stainless steel wheel works so well, it cleanly cuts through even frozen pizza. 
"This is heavy duty and well made," according to one reviewer. "I generally love OXO products and this pizza cutter is no exception. The handle is a good size for gripping, has a good weight and the wheel is sturdy—not wobbly like some cheap pizza cutters. The wheel is also a little bigger in circumference than your standard pizza wheel. It really rolls around the pie like a boss."
"It slices through crispy crusts and thicker dough with ease," explains another. "I'm sure it will come in handy when I cut homemade noodles or store bought puff pastry sheets too. I'm very pleased with this product and have been using it for months. I wash it by hand and dry it immediately, and store it in my utensil drawer."
Details:
9.38 x 4.13 x 0.63 inches
Stainless steel
Large, comfortable, non-slip grip
Honorable Mention: Cuisinart Pizza Cutter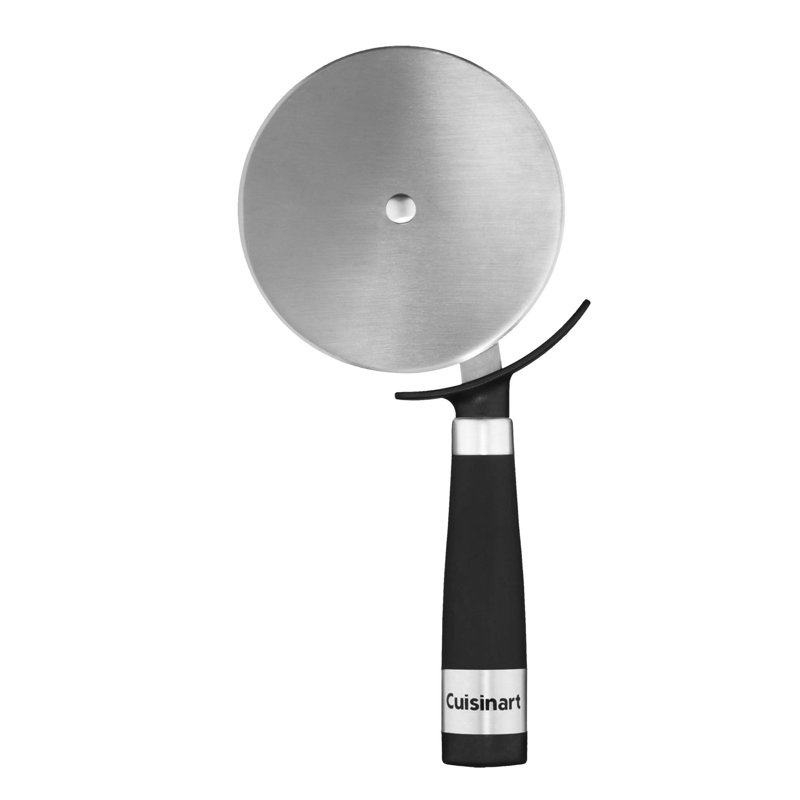 Buy it! $14.93, Wayfair
If you're looking for a standard pizza wheel with no bells and whistles, you've found it in this Cuisinart tool. 
This comes from the company Barrell Handle line, which means it "features a sophisticated design with a professional look and feel."
Customers say it's a durable product for the price. 
"Awesome! Great quality. Sturdy. Perfect Size," one customer sums up in a 5-star review. "Easy on the hand when cutting. Won't rust or break like my previous ones."
"Works great!!! Very well made and cuts right through the crust without messing up the toppings," according to another.
Details:
4.25" wheel
Stainless steel blade
Black soft-grip handle
Best Budget-Buy: Progressive Prep Solutions Pizza Wheel
Buy it! $5.99, Amazon
It doesn't get much cheaper than this, folks. Functional and well-reviewed, this $5.99 option is the most affordable pizza cutter on this list. 
"This pizza cutter has a larger diameter wheel than our old one," one reviewer says simply. "It is sturdy and cuts well."
"I took a chance and bought this pizza cutter," says another. "It is worth it. If you are on the fence for a pizza cutter. This one is awesome. Go for it."
What more do you need to hear?
Details:
8"L x 3"W x 11"H
Stainless steel blade
Comfort grip handle
Best Rocker Style: Kitchenstar Stainless Steel Pizza Cutter
Buy it! $15.99 (was $25), Amazon
The crescent-shaped mezzaluna is for more than just show: It cuts vertically instead of horizontally, so it leaves your toppings completely intact. 
You'll feel like a professional when you slice your next homemade pizza pie with this beauty. Just remember to store it in its protective case for safety. 
"What a great way to slice pizza! Who knew? I was afraid I would end up regretting spending the money and it would be just some tool I never used, but BOY, it is FABULOUS," says one 5-star review. "It cut through the pizza without sawing. Just rock it through the pizza and it goes all the way through the first time no matter how thick the dough. And unlike wheeled cutters which seem to attract your cheese and toppings and take them along for the ride, all the cheese and toppings stay right where they are!"
"I used this last night to cut a pizza, and it worked perfectly," according to another. "The pepperoni stayed in place rather than being pushed along like a rolling cutter does. It was sharp—I didn't have to press too hard. It rinsed clean with no trouble at all. I'm excited to try this on veggies and quesadillas."
Details:
13.75 x 3.75 x 0.95 inches
Stainless steel blade
Protective cover included
Best Scissors: Fiskars Kitchen Shears 
Buy it! $24.99, Amazon
It may seem unconventional, but slicing your pizza with kitchen shears is a totally valid—and effective—method. These unique scissors will cut more than just pizza, but these are specially designed to leave toppings in place. 
"This is hands down the best and most useful Christmas present I have ever given my husband," a reviewer claims. "Not only are they excellent pizza cutting scissors, they are good for everything. They are nice and sharp and do every job you can think of. They come apart easily for cleaning, and can go in the dishwasher with no issues."
These pizza scissors are very easy to use, don't scratch my plates the way a pizza wheel would, and I don't have to transfer my pizza to a cutting board to use them," says another. "This is a high-quality product that is easy to clean."
Details:
10.5 inches
Heat-resistant nylon base
Large handle loops sculpted for comfort
Source: Read Full Article